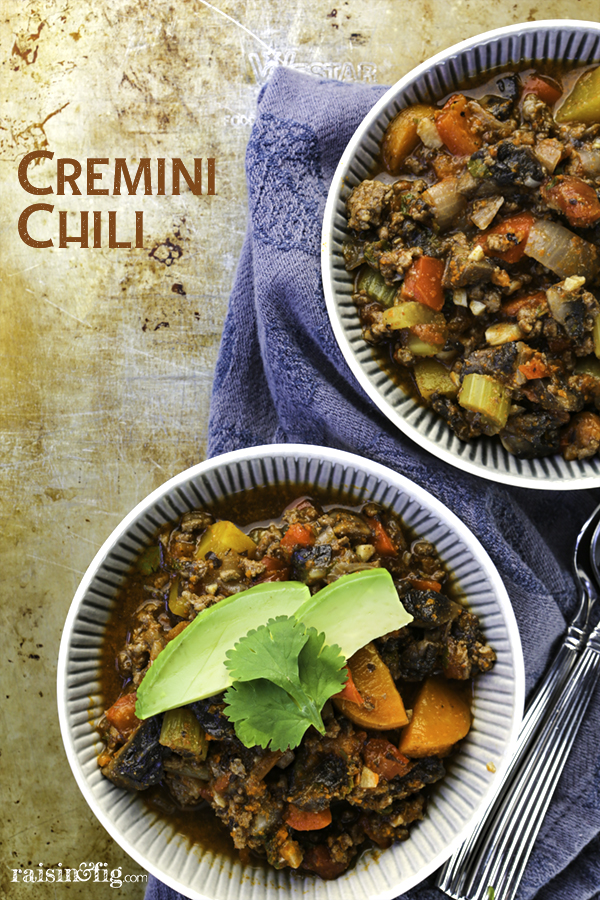 When I made a batch of this Cremini Chili for the freezer, little did I know how glad I'd be to have a few meals on hand during the Covid19 pandemic CRAZINESS! Having just placed another grocery delivery order (bless you, Instacart!) I'm getting geared up to stock the freezer with lots of my other freeze-able favorites.
Just because we're quarantined, doesn't mean we can't eat healthy – and enjoy it! This Cremini Chili is from my current favorite cookbook, Food: What the Heck Should I COOK? 
Packed with delicious sautéed vegetables, the cremini (portobello) mushrooms can be doubled to make a meat-free version. The batch I'm making tonight includes grass-fed beef, but this is delicious either way. You can scroll right to the recipe if you want – but I need to rave about this cookbook! (For which I am not being compensated in any way). 
A couple of years ago, I was looking forward to the results of one of those "bod pod"/BMI tests I took at the place where I was strength training. I had been following their workout and eating plan faithfully for six months, and was excited to see my results. I knew I had gained strength, and eaten even healthier than they recommended. When the results came back, I was disappointed. Nothing had changed… I was still a "skinny fat person" – with high cholesterol. 
A friend introduced me to a book titled "Food: What the Heck Should I Eat?" by Dr. Mark Hyman. He's the Head of Strategy and Innovation for the Cleveland Clinic Center for Functional Medicine, can be heard on a number of podcasts (my favorite is The Doctor's Farmacy), and has written a bunch of books. In this one, he cuts through boatloads of conflicting and confusing research about the food we eat, and helps simplify and make sense of it. I devoured the book – and just making a few tweaks in what I eat has made a huge difference in how I feel. 
Recenty, he released the companion cookbook. The day it arrived, I sat down with a tasty beverage and read it cover-to-cover. The recipes sounded so good, I was excited to try almost all of them. So far, I've made over a dozen, and every one of them is a keeper – including his Go-To Cremini Chili.
Since I don't have to venture out to get groceries, it's a great day to get outside and take a walk with hubby. We're both looking forward to a big bowl of this Cremini Chili when we get back!

Go-To Cremini Chili
Ingredients
2 tablespoons ghee or coconut oil
1 pound grass-fed ground beef
12 large cremini mushrooms (24 if you forego the beef), roughly chopped
2 large red onions, roughly chopped
2 large carrots, roughly chopped
2 red bell peppers, stemmed, seeded, and roughly chopped
4 celery stalks, roughly chopped
4 cloves garlic, minced
1 tablespoon chili powder (original recipe calls for 2 Tbs)
1 tablespoon plus 1 teaspoon dried oregano
2 teaspoons garlic powder
½ teaspoon chipotle powder
1 (15-ounce) can tomato purée
¼ teaspoon sea salt
1 large avocado, pitted, peeled, and sliced
½ cup loosely packed fresh cilantro leaves, roughly chopped
Instructions
Heat a 6-quart Dutch oven over medium-high heat, add the ghee, and heat until shimmering. If using, add the beef and cook, using a wooden spoon to break it up into small pieces and allowing the meat to sear and brown for about 3 minutes.
Add the mushrooms, onions, carrots, bell peppers, and celery, stirring well to combine. Cook until the vegetables are soft, 4 to 5 minutes.
Add the minced garlic, chili powder, oregano, garlic powder and chipotle powder and stir well. Add the tomato purée and water and bring to a boil. Cover, reduce the heat to medium, and cook slowly until the chili has reduced and thickened, about 45 minutes.
Finish the chili by seasoning with the salt. Divide among four bowls and top with avocado and chopped cilantro.
Notes
The recipe calls for adding 6 cups of filtered water. I found that made it way too "soupy." I cut it to 3 cups and found that you really don't need any at all.

You can also serve with dollops of sour cream (or Greek yogurt) - especially if you increase the chili powder and need to balance the heat!