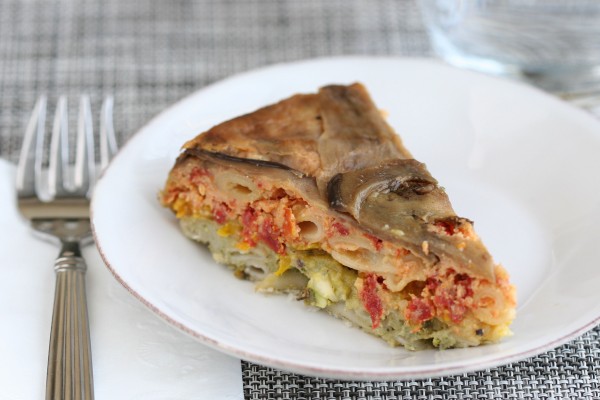 For my sister's birthday a few years ago, I gave her a gift certificate to a cooking class that we could do together. Since she's not a big meat eater, I chose one that focused on great vegetarian dishes. With more and more "experts" talking about the health benefits of cutting back on meat, I figured it wouldn't hurt to add to my repertoire either.
The class was taught by the wonderful Robin Asbell and held at Cooks of Crocus Hill.   We had a great time, and  over a few glasses of wine, learned to make a bunch of new dishes.  Robin's "Grilled Vegetable Sformato" was our favorite.
I made it for Christmas this past year as an option for anyone not wanting the pork I was making. As it turned out, this was the dish everybody raved about. With a big batch of fresh veggies, and our only 50-degree day in months, I fired up the grill and made it again this past weekend.
It's not a difficult recipe at all — but you will dirty a few dishes making it!

Grilled Vegetable Sformato
This layered grilled vegetable sformato is pretty and filling enough to be a centerpiece main dish. It can be made a day ahead and reheated, or made a few weeks ahead and frozen, then thawed overnight in the refrigerator before reheating in the oven at 350°F. - Robin Asbell
Ingredients
3 large yellow bell peppers, or jarred roasted yellow peppers
½ cup olive oil
2 large eggplants, thinly sliced lengthwise
4 large eggs, lightly beaten
2 cups ricotta cheese
6 ounces Romano cheese, shredded
4 ounces Fontina cheese, shredded
½ teaspoon salt
½ teaspoon freshly cracked black pepper
1½ cups fresh basil leaves, washed and dried
3 cloves garlic, peeled
½ cup pistachios, shelled
1 cup sun-dried tomatoes, rehydrated
¼ teaspoon cayenne pepper
1½ cups whole wheat penne, cooked
½ cup dry breadcrumbs
Basil leaves
Instructions
Preheat the broiler or barbecue grill and roast the bell peppers until skins are blackened. Place them in a small airtight container and close tightly to steam for 15 minutes. When cool enough to handle, peel, dice, and drain the peppers in a mesh colander, pressing out excess moisture. (If using jarred peppers, drain, rinse, and chop them.)
Brush an 11-inch springform pan with some of the olive oil, which will act as the form for the sformato, then set aside. Heat a grill pan or use the grill. Brush the eggplant with olive oil. Grill the slices until tender and decorated with black grill marks (running lengthwise), 2 to 3 minutes on each side. Put a small slice in the center of the springform pan. Lay slices in a fan or flower design covering the bottom and sides and leaving an inch or so hanging over the edges to wrap around the top of the filled pan.
In a large bowl, mix ricotta, eggs, cheeses, salt, and pepper. Remove half of the mixture to another bowl. Use a food processor to finely grind the basil, garlic, and pistachios, then mix it with half of the cheese mixture. Dice the tomatoes and add it to the other half of the cheese mixture, then mix in the cayenne. Divide the cooked pasta between the 2 bowls and fold the contents of each bowl together gently.
Preheat the oven to 400°F (200°C). Into the eggplant-lined pan, sprinkle 2 tablespoons of the breadcrumbs and distribute the pasta and tomato mixture. Level the surface and top with yellow bell peppers and another 2 tablespoons crumbs. Top with remaining pasta mixture, level, and cover with the remaining crumbs. Fold the overhanging eggplant back onto the top of the peppers.
Bake the sformato for 50 to 60 minutes and let stand for 20 minutes before serving to firm up. Run a sharp knife around edge of pan. Invert the pan onto a serving plate and release springform, carefully removing bottom. Garnish the sformato with the basil and serve.
Here's the eggplant lining my springform pan: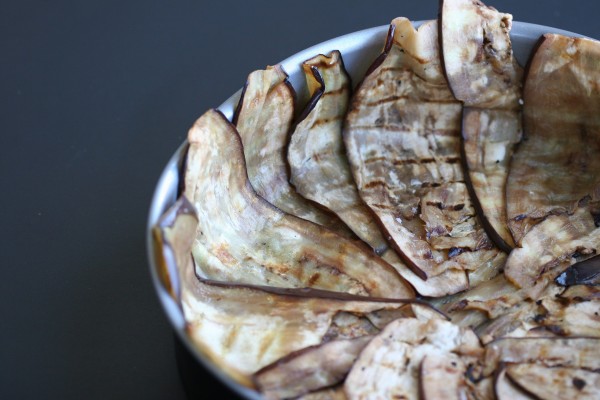 I was thrilled with how this looked once I removed it from the pan!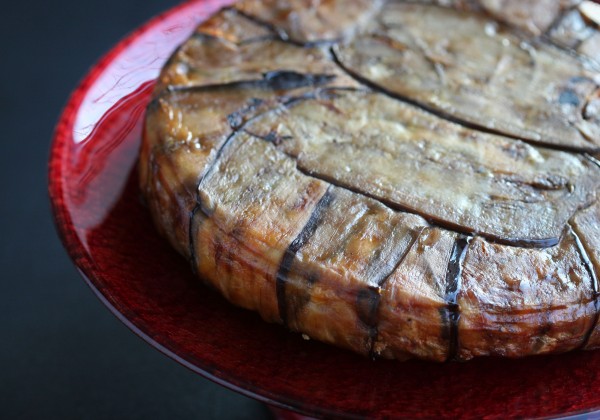 We were so hungry that I didn't let it rest long enough before I sliced it. So rather than show you MY somewhat mangled "presentation," below is a pic of Robin's cookbook "New Vegetarian" with her Sformato on the cover.   Pretty, huh?
(By the way, by the time Husband and I were ready for seconds it sliced beautifully. The pic at the top of this post is my slice for lunch the next day.)  You'll notice mine doesn't have the height that Robin's original does. This was because I used a gluten-free penne, that didn't "expand" like most pastas do.  Next time, I'll use regular or whole wheat penne.
Robin's book, "New Vegetarian," published by Chronicle Books, is terrific. It's in my Amazon store if you're interested! And you can check out Robin's latest teaching schedule and books and her blog.