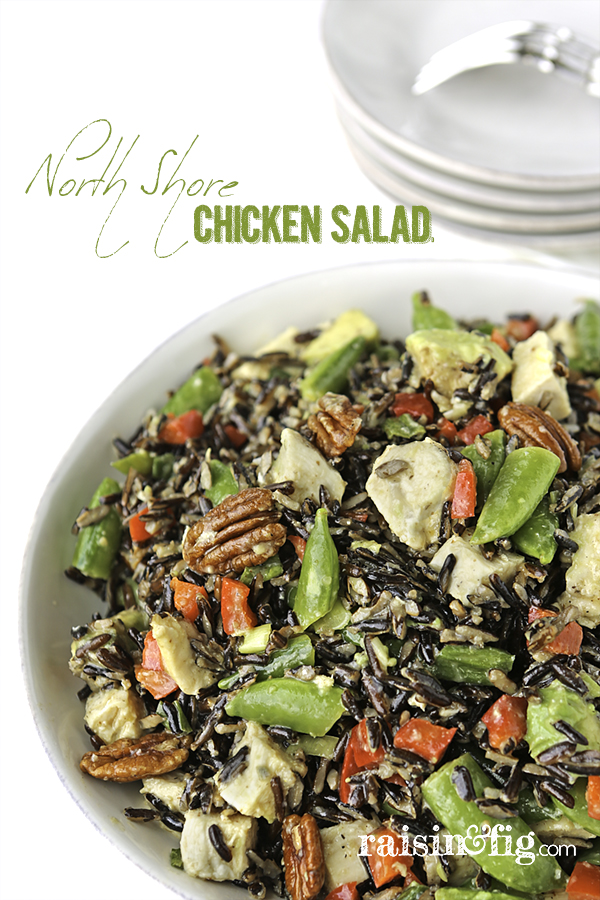 Minnesota is known for a lot of things. Long cold winters… more than 10,000 lakes… and Hockey Hair. Prince, Bob Dylan and Betty Crocker (not a real person) are all Minnesotans. Zubaz were invented here (sorry). We've got the Mall of America, a 49-foot tall statue of Paul Bunyan, and The Mayo Clinic. Folks from the North Star State famously insist on using the wrong name for a popular children's game (they call it "Duck, duck, gray duck". What?! EVERYBODY knows it's "Duck, duck goose!"). If you've enjoyed Cheerios, Tator-Tot Hot Dish (again, sorry) or Bundt cake you can thank Minnesota.
Open up just about any church cookbook from around these parts, or ask a Minnesotan to peek at her handed down, faded and spattered recipe cards, and you'll find a recipe for North Shore Chicken Salad. It celebrates one of our state's tastiest exports: Minnesota wild rice. (Always late to the party, I just learned about this salad from my dear friend Merritt, who asked me to bring it to a shower we were co-hosting).
This is one of those dishes you'll make over and over again – for company, or just to have around all week long for a tasty lunch. 
It comes together fast – especially if you're able to find pre-cooked wild rice — which is a game changer! Wild rice isn't hard to make at all, but if you can save yourself time, and a dirty pan, by all means, search it out. I've found it at Target, and my local grocery store occasionally carries the Fall River brand.
The original recipe calls for half this amount of sugar snap peas, but they're SO good, and add such great color, that at Merritt's suggestion, I doubled them. You can also add more red pepper for color and crunch. If you're in a real hurry, you could pick up and shred a roasted rotisserie chicken. I just use this fail-proof method of "dry poaching" chicken breasts.
You'll want to make the salad the day before to give all the flavors time to meld together. Just hold off on adding the avocado and pecans until right before serving.
I'm betting this North Shore Chicken Salad will find its way to your recipe collection – whether written out long-hand on a Post-it Note (also from Minnesota!) or saved in your favorite app.

North Shore Chicken Salad
Ingredients
Dressing!
2 cloves garlic, minced
1 Tbsp. Dijon mustard
½ tsp. salt
¼ tsp. sugar
¼ tsp. papper
¼ cup rice wine vinegar
⅓ cup olive oil
Salad!
4 cups cooked wild rice (cooked in chicken stock) - or precooked, packaged (see notes)
juice of ½ lemon
1 chicken breast, cubed
3 green onions, chopped, including tops
½ red pepper, diced
4 ounces sugar snap peas cut into 1" slices
1 avocado, diced
1 cup toasted pecan halves
Instructions
Mix dressing ingredients together in tightly lidded jar, shake well. (Alternatively, emulsify with an immersion blender).
Mix all salad ingredients, except avocado and pecans. Toss with dressing.
Cover and refrigerate at least 4 hours before serving.
When ready to serve, toss with avocado and pecans.
Notes
Best made the day ahead.