Moms the world over have devised some very creative ways to get their kids (or husbands) to eat more vegetables.  Today's adaptation is one of my all-time favorites.
Years ago I discovered a couple of Diane Seed's wonderful cookbooks.  The recipes are simple and straightforward, but unique.  And the illustrations are delightful.  When I got rid of my cookbook collection this is one I couldn't part with. One of the first recipes I tried was her "Tagliolini with Creamed Carrots."  Besides being delicious (and a little bit naughty) it struck me how much this tasted like homemade mac and cheese, and had that out-of-the-box orange color.  Hmmm, what if I used elbow macaroni instead of tagliolini?  Might kids fall for this sneaky way of eating more vegetables?!
Since I forgot to have children (where did those years GO!?) I needed to borrow my "victims."  So I experimented on my niece and nephew.  While they didn't believe for one minute that this was mac n' cheese out-of-a-box, they loved it. The original recipe was great, but I've tweaked it over the years.  I wanted to keep as many of the nutrients as possible, so rather than dumping the water when I drained the carrots, I lifted them out with a slotted spoon, and brought the pot back to a boil to cook the pasta in the carrot-water.  I added cauliflower because it gives a "silkiness" to the sauce, and let me cut down on the amount of heavy cream originally called for.  I also added a little sharp cheddar cheese for some "bite."


Healthier Macaroni & Cheese
Ingredients
1 pound carrots, peeled and sliced into 1" pieces
2 cups cauliflower florets
⅓ cup heavy cream
½ cup freshly grated parmesan
1½ cups freshly grated cheddar
1 tsp kosher salt
freshly ground black pepper
1 pound elbow macaroni
Optional: 1 Tbs melted butter
½ cup bread crumbs or panko
Instructions
Add carrots to boiling salted water. Cook for 15 minutes. Add cauliflower to pot. Continue cooking until carrots are very soft (about 10 minutes more). Lift vegetables out of water with strainer or slotted spoon and move to blender or food processor. Return reserved water to boil.
Puree vegetables, and add cream, half of each of the cheeses, salt and pepper.
Cook the pasta in the carrot-water, per package directions. Drain and return to pot. Stir in the butter, remaining cheese and carrot sauce. Season to taste with salt and pepper.
(Optional: Preheat oven to 400. Spread pasta into buttered casserole or individual ramekins. Mix together melted butter and breadcrumbs and sprinkle on top of pasta. Bake just until crumbs are golden. Serve immediately.)
Experiment with different pastas and cheeses  – the recipe is very versatile.  I'll often use whole wheat pasta – sometimes angel hair or ditali or penne.  Fontina is a great melting cheese that you can substitute for the cheddar if you like… if you can stand the smell of it when you grate it!  (It is delicious though …)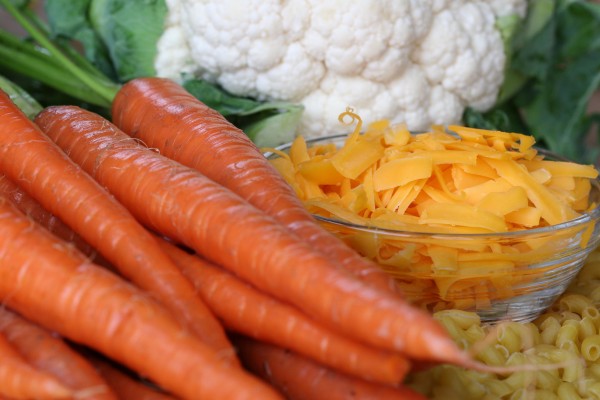 This freezes very well too.  Since there are just two of us eating most of the time, whenever I make a batch of this, I place most of it in individual ramekins or my favorite freezer-to-oven-to-table containers and freeze.  To serve, just cover tightly with foil, bake at 350 for about an hour and enjoy!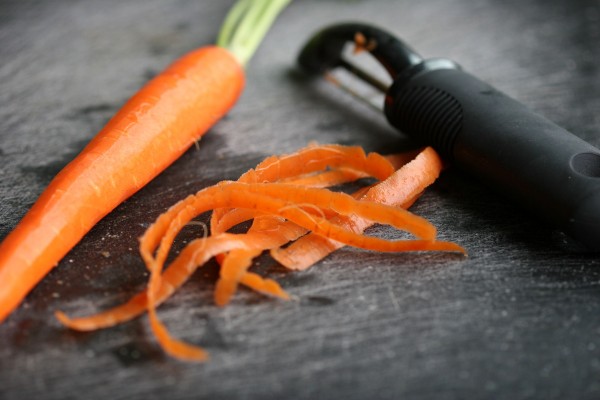 Tonight, as we end (another) gloomy, cold, day, this healthier mac n' cheese will round out meal of comfort-food that also includes turkey meatloaf and garlic green beans. By the way, you can still get your hands on "More Great Italian Pasta."  The recipes are delicious as written – but they're also great inspiration for your creative cooking.