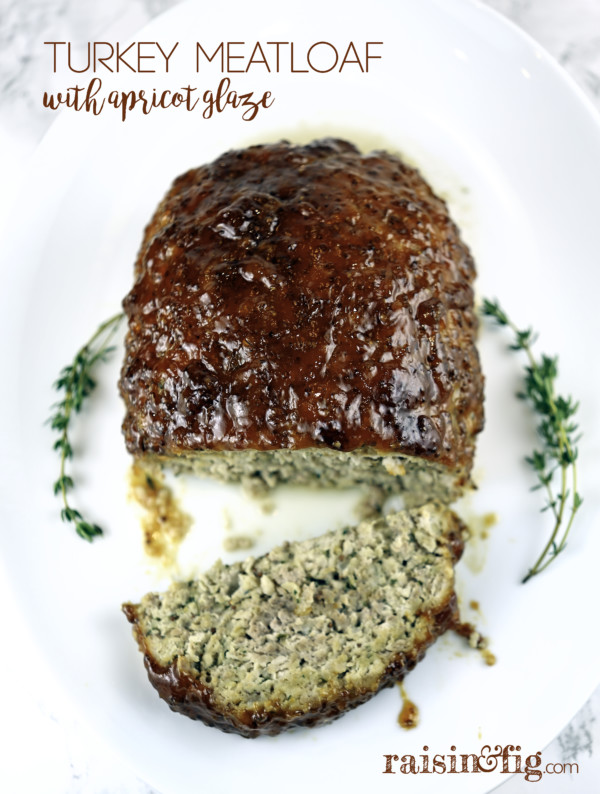 I admit that I frequently try to convert my friends… sometimes they politely change the subject, sometimes they quickly shut me down, but every once in awhile, they'll take me up on my challenge to get out of their comfort zone. And yes, on a few occasions I've tricked them into it.
I'm not talking about inviting friends to church (though it's an open invite and we'd love to have you join us!). I'm talking about trying a new twist on an old favorite. In this case, it's trading in your grandmother's decades-old meatloaf recipe for an updated, probably healthier version with a delicious twist. This is Turkey Meatloaf with Apricot Glaze. And it's fantastic.
I'd been making various versions of turkey meatloaf for awhile, but it wasn't winning any converts. Then an issue of Cook's Illustrated arrived that changed everything.
(If you are curious about why some recipes and techniques work and others don't, you need CI. The team is a group of really smart and incredibly patient people who test recipes so we don't have to. I devour each issue like some people read novels. But I'm weird that way… )
Recently, they did a multi-page story on getting turkey meatloaf right – and by "right" I mean incredibly flavorful, hearty and not dry.
Husband immediately inducted Turkey Meatloaf with Apricot Glaze into his personal entreé Hall of Fame. I don't hesitate to serve it for company, it's that good!
And converts? Even one of my most "particular" friends goes so far as to request this when he visits.
I'd recommend doubling the recipe and freezing one of the loaves. Mix and shape, but don't glaze and bake until you're going to serve it. Thaw overnight in the refrigerator.

Turkey Meatloaf with Apricot Glaze
Ingredients
Meatloaf
3 tablespoons unsalted butter
Pinch baking soda
½ onion, chopped fine
Salt and pepper
1 garlic clove, minced
1 teaspoon minced fresh thyme
2 tablespoons Worcestershire sauce
3 tablespoons quick oats
2 teaspoons cornstarch
2 large egg yolks
2 tablespoons Dijon mustard
2 pounds 85 or 93 percent lean ground turkey
1 ounce Parmesan cheese, grated (1/2 cup)
⅓ cup chopped fresh parsley
Glaze
¼ cup apricot preserves
2 tablespoons Dijon mustard
2 tablespoons ketchup
Pinch salt
Instructions
FOR THE MEATLOAF: Adjust oven rack to upper-middle position and heat oven to 350 degrees. Line wire rack with aluminum foil and set in rimmed baking sheet. Melt butter in 10-inch skillet over low heat. Stir baking soda into melted butter. Add onion and ¼ teaspoon salt, increase heat to medium, and cook, stirring frequently, until onion is softened and beginning to brown, 3 to 4 minutes. Add garlic and thyme and cook until fragrant, about 1 minute. Stir in Worcestershire and continue to cook until slightly reduced, about 1 minute longer. Transfer onion mixture to large bowl and set aside. Combine oats, cornstarch, ¾ teaspoon salt, and ½ teaspoon pepper in second bowl.
FOR THE GLAZE: Microwave apricot preserves until hot and fluid, about 30 seconds. Strain preserves through fine-mesh strainer into bowl; discard solids. Stir in mustard, ketchup, and salt; set aside.
Stir egg yolks and mustard into cooled onion mixture until well combined. Add turkey, Parmesan, parsley, and oat mixture; using your hands, mix until well combined. Transfer turkey mixture to center of prepared rack. Using your wet hands, shape into 9 by 5-inch loaf. Using pastry brush, spread half of glaze evenly over top and sides of meatloaf. Bake meatloaf for 40 minutes.
Brush remaining glaze onto top and sides of meatloaf and continue to bake until meatloaf registers 160 degrees, 35 to 40 minutes longer. Let meatloaf cool for 20 minutes before slicing and serving.
Notes
Freezes well. Mix and shape, then wrap tightly and freeze. Thaw overnight in fridge, then glaze and bake as instructed.