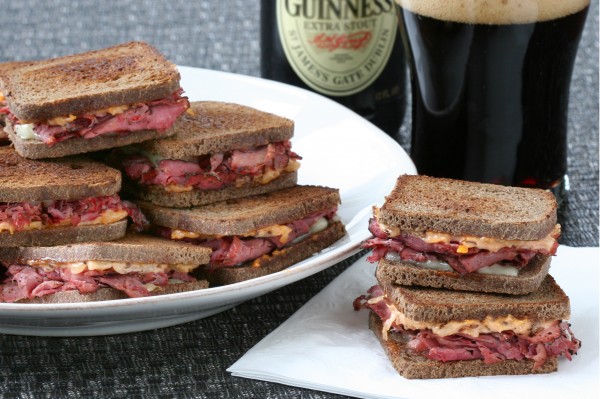 If you ever want to make a cook's day, request a favorite dish of his or hers.  Speaking from experience, we're so thrilled that we've had a "hit" we'll gladly oblige!
For years, I hosted Husband's annual office Christmas party at our house.  The guinea pigs (God bless 'em!), who attended year after year, apparently had their patience rewarded with a few memorable offerings. That, and there was plenty of beer and wine…
As a result of those "experiments," the one thing I've had more requests for really isn't a "dish" – it's a sandwich.  And a mini-sandwich at that.
These Mini-Reuben Sandwiches are pretty much the perfect party food.  You can make them well in advance, they're easy to eat, and they're "guy friendly." And I don't just make them for parties.  For all the reasons above, if you stop by during football season, it's a safe bet I'll have some of these on hand.
This week, though, I learned that a friend's wife (one of our frequent party guests) had undergone an emergency surgery, and I offered prayers and anything else that might help.  His response?  "Prayers are great!  As for food, I could never refuse Mini-Reubens."  
Coming right up!