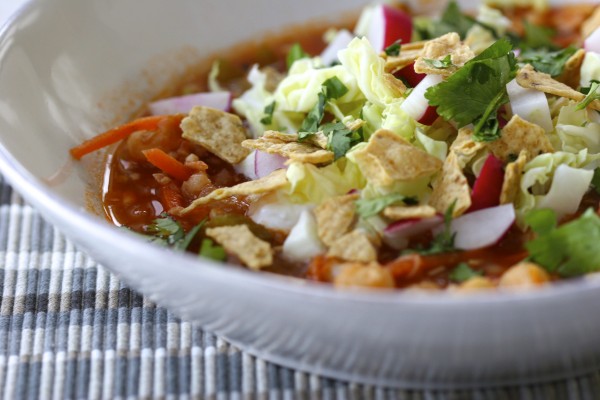 I meant to post this earlier… but there was a power outage during the Superbowl. *
Anyhoo… I'm sure a disproportionate number of households prepared game-day feasts that included Velveeta, tortilla chips, wings, and any number of dips that aren't exactly artery or waistline friendly.
At the Wood house, we're about to launch a (modified) cleanse, and didn't feel like taking ten steps backward before we'd even started.  So I pulled out one of my most tried-and-true dishes that is super easy and super healthy — perfect for this Superbowl Sunday.
Like lots of great soups and stews, this one is a great vehicle for a number of leftover veggies you might have in the fridge.  The original recipe was actually created to use leftover Thanksgiving turkey — I just buy a cooked rotisserie chicken and shred it.  You can also buy those pre-shredded carrots to save time.
I always at least double the recipe because it's great for a crowd.  Today, I finished it just before game time and left it on a low simmer for whoever stopped by.
Whatever is left freezes really well.  Just thaw, pick up some fresh condiments and make a simple skillet cornbread for an easy meal.
Stock Up :: Game Day Posole
Author:
Adapted from Cooking Light
Ingredients
1 tablespoon olive oil
1 canned chipotle chile in adobo sauce
¾ cup finely chopped onion
¾ cup finely chopped celery
¾ cup finely chopped carrot
2 tablespoons minced garlic
2 teaspoons chili powder
2 cups shredded rotisserie chicken
3 cups fat-free, less-sodium chicken broth
½ cup tomato puree
½ teaspoon salt
¼ teaspoon freshly ground black pepper
1 (15.5-ounce) can white hominy, drained
1 bunch radish julienned
crushed tortilla chips
sour cream
cilantro
cabbage shredded
lime juice
Instructions
Heat oil in a large heavy saucepan over medium-high heat. Finely chop chile. Add chile and next 5 ingredients (chile through chili powder), and sauté 5 minutes or until tender. Add remaining ingredients, and bring to a simmer. Cover and cook 45 minutes or until slightly thick, stirring occasionally.
Serve topped with your choice of condiments (radishes, crushed tortilla chips, sour cream, cilantro, shredded cabbage, lime juice)