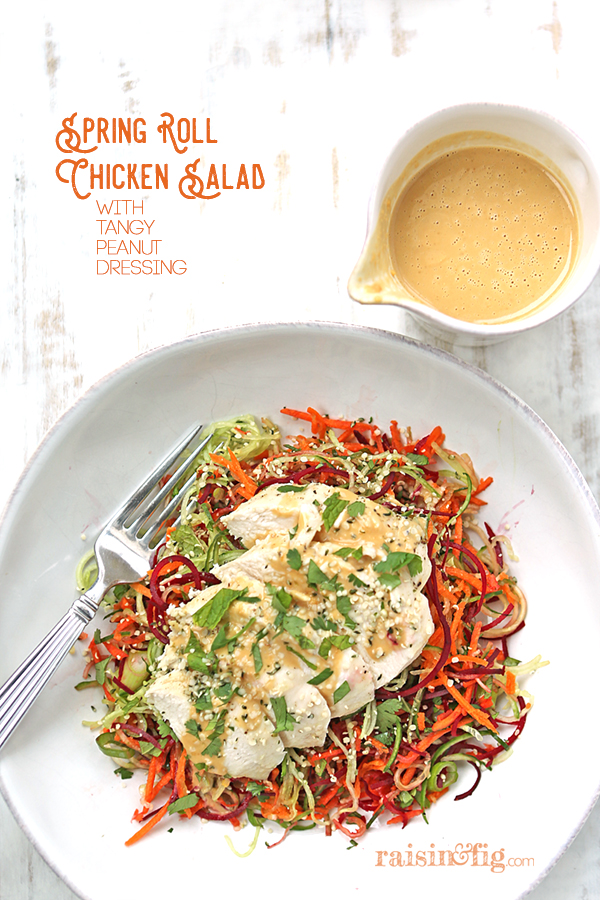 If you're looking for a healthy option in an Asian restaurant, fresh spring rolls are usually a good choice. Some restaurants call them "summer rolls" to distinguish them from the more popular version that is wrapped in won ton skins and fried. (Not so healthy!) I'm talking about the ones that are wrapped in rice paper and stuffed with crunchy veggies, maybe some shrimp or chicken, and served cold with a yummy dipping sauce. They're fun to make, but let's face it… the hangry-er I am, the lazier I am! Enter Spring Roll Chicken Salad.
When I have the craving for these fresh, light and super delicious spring rolls, but don't have the time — or the wrappers — to make them, I just whip up this deconstructed version. 
I'll spiralize the veggies, cook the chicken and whip up the dressing early in the week. It's great to have it on hand for quick lunches. You can play with ingredients – maybe add jicama or bell pepper. Swap out shrimp for the chicken. Or tofu (?!). Or just make it vegetarian.
The hemp hearts are incredibly nutritious – if you buy a bag (at a health food store or most larger grocers) you'll love them in your smoothie or sprinkled on yogurt. Especially if you toast them. I also put them in homemade
dark chocolate bark
. 
(Don't have a spiralizer? You can use a vegetable peeler to make "ribbons" — or just buy the pre-spiralized veggies in your fresh produce department. More and more grocery stores are offering them.) 
Spring Roll Chicken Salad
Author:
Adapted from Clean Eating
Ingredients
Dressing!
1 Tbs natural peanut butter
1 Tbs coconut aminos
2 Tbs fresh lime juice
½ tsp apple cider vinegar + more to taste
¼ tsp toasted sesame oil
⅛ tsp red pepper flakes
Salad!
2 small chicken breasts, poached or roasted (easy dry poached recipe below)
1 English cucumber; spiralized, julienned or grated
1 carrot; spiralized, julienned or grated
1 small beet, spiralized, julienned or grated
1 green onion thinly sliced
¼ cup chopped fresh cilantro
2 Tbs chopped fresh mint
1 Tbs hemp hearts
Instructions
Make the dressing: Add all ingredients to a small jar; seal and shake until smooth. Taste and adjust to desired thickness, using additional lime juice or vinegar.
Make the salad: In a large bowl, toss together the cucumber, carrot and beets. Add onion, cilantro and mint. Pour dressing over and toss to coat. Sprinkle with hemp hearts and top with chicken.
Notes
Store leftover salad and dressing separately. The beets will bleed, discoloring the cucumber and carrot, so if storing, keep the beets separate until serving. Toss before eating.
I highly recommend the "dry poaching" method for cooking your chicken, recommended by
The Kitchn
. I've included the recipe in this post, but I highly recommend visiting The Kitchn - their site is full of great resources and recipes.
I even made an
award winning video tutorial
to show you how to make them. Just kidding, it's kind of lame. But I think it's easier to show you how to roll them, rather than try to explain. 
Whether you go all out and make the actual rolls, or just make the deconstructed Spring Roll Chicken Salad, enjoy!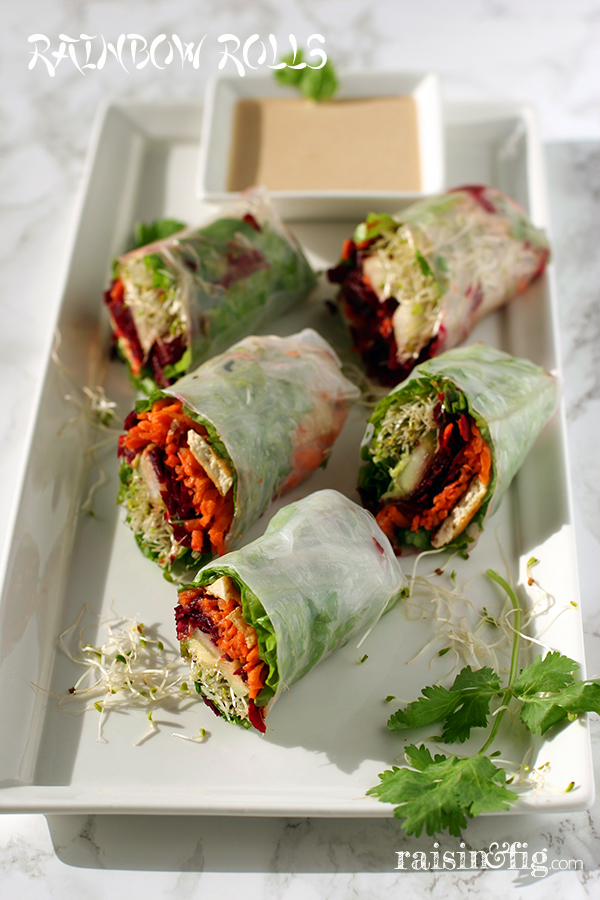 I've made this salad so many times, that I have taken a couple of pictures of it. Here's a recent version, sans beets. (Thanks to our Raisin & Fig Facebook friends for voting which pic should headline this post.