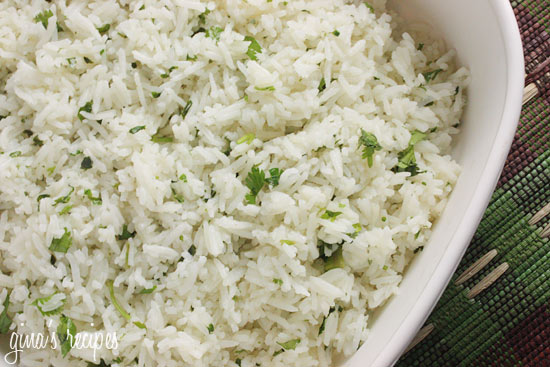 I love to cook, and I'll tackle a difficult recipe without blinking. But for whatever reason, I can't whip up a batch of rice worthy of company. I don't own a rice cooker — though I'm told that if I did, my rice-failures would be behind me. But I don't need or want another appliance — especially one so "specialized." Anyway, I figure it would be "cheating."
Then my sister introduced me to an alternative.She had invited us for fish tacos one night. Just as we were headed over, she called and asked if I'd mind stopping at Chipotle to pick up some of their Cilantro Lime Rice.
You have to know that my sister is a phenomenal cook, and makes everything, EVERYTHING from scratch. I thought a rice-cooker was cheating… Stop at a fast-food joint for a side dish?? I was baffled. What OTHER dishes had she passed off as her own??? Did my mother know what she did? (It had been a slow day in the "things-I-wonder-about" department, so this topic had a disproportionate amount of energy and emotion attached to it. Obviously.)
After spending just $2.94 for 8 generous servings of rice, we went on our merry way.
Then upon tasting a fork-full with my fish taco, I understood. The rice was hot, the flavor fresh and the "effort" easy. And ridiculously cost-effective.
No judging here. In fact, if you come by for one of my favorite Southwestern-inspired meals, I think you'll love the rice…
PS If you have the app, you can order ahead!
PPS Chipotle cilantro lime rice is best served right away. Reheating causes the cilantro to darken – which doesn't affect the flavor, just the "curb appeal" of the dish.