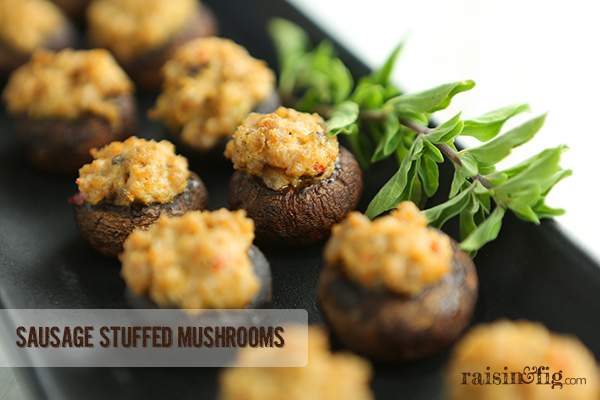 These little morsels will have you struggling to find the right balance between polite moderation and downright gluttony. At least that's been my experience…
We'd spent the summer in Idaho, and several of us were getting together for dinner before heading back home. These are friends that we dearly love – and they also happen to appreciate great food and excellent wine. When my friend Debbie introduced her Sausage Stuffed Mushrooms during cocktail hour that night, they were an instant hint.
It was the kind of situation where you try hard to look like you're listening to the conversation, all the while having this internal dialogue… "I've already had four. Should I have another?"  "He's had at LEAST six – for sure, I could have one more." "I'm burning these calories by standing and eating them rather than sitting, right?" "Who's going to eat that last one… I see him eyeing it… please tell me chivalry is not dead…" "DANG IT, they're gone. I wonder if there are more in the oven."
Dear goodness, these things are fantastic! They're perfect-sized bites, with just the right amount of zing.
I made them no less than three times over the holidays, and they were equally popular.  They're simple to make – and I've got a few tips for making them even easier.
First, the filling freezes very nicely. So you can make that well ahead of your gathering – I have some in the freezer as we "speak" in case an impromptu happy hour breaks out at our place. When you're ready to use, just thaw and fill fresh mushrooms. You can even prepare the mushrooms a day ahead, and bake just before serving.
Second, when I'm using ground meat for something like this (or say, potstickers or a thin-crust pizza topping) I like to give it several pulses in the food processor after it's been browned and cooled. This gives it an even and smooth texture (think Taco Bell, but real meat) that is easier to work with and heats up faster. It's optional, but the extra step is worth it in my book.
If you're in need of a slam-dunk appetizer for your next get-together, this is it.

Sausage Stuffed Mushrooms
Ingredients
3 Italian hot sausages, casings removed - or 1 pound ground hot Italian sausage
1½ teaspoons dried oregano
1 cup freshly grated Parmesan cheese (about 3 ounces)
½ teaspoon Worcestershire sauce
½ teaspoon garlic powder
1 8-ounce package cream cheese, room temperature
1 large egg yolk
Olive oil
36 small or 24 medium mushrooms, stemmed (I like baby bellas)
⅓ cup dry white wine
Instructions
Sauté sausage and oregano in heavy large skillet over medium-high heat until sausage is cooked through and brown, breaking into small pieces with back of fork, about 7 minutes. Using slotted spoon, transfer sausage mixture to large bowl and cool. (Optional, pulse in food processor to break up into even bits).
Mix in ½ cup Parmesan cheese, Worcestershire sauce, and garlic powder, then cream cheese. Season filling with salt and pepper; mix in egg yolk.
Brush 15x10x2-inch glass baking dish with olive oil to coat. Brush cavity of each mushroom cap with white wine; fill with scant 1 tablespoon filling and sprinkle with some of remaining ½ cup Parmesan cheese. Arrange mushrooms, filling side up, in prepared dish.
Preheat oven to 350°F. Bake uncovered until mushrooms are tender and filling is brown on top, about 25 minutes.
Notes
I often cool and drain the sausage on paper towels, then give it a few pulses in a food processor to break it up into fine pieces... easier to work with when stuffing little mushrooms!

DO AHEAD Filling can be made ahead and frozen for a month or two. Fresh mushrooms can be prepared and stuffed 1 day ahead. Cover and chill.