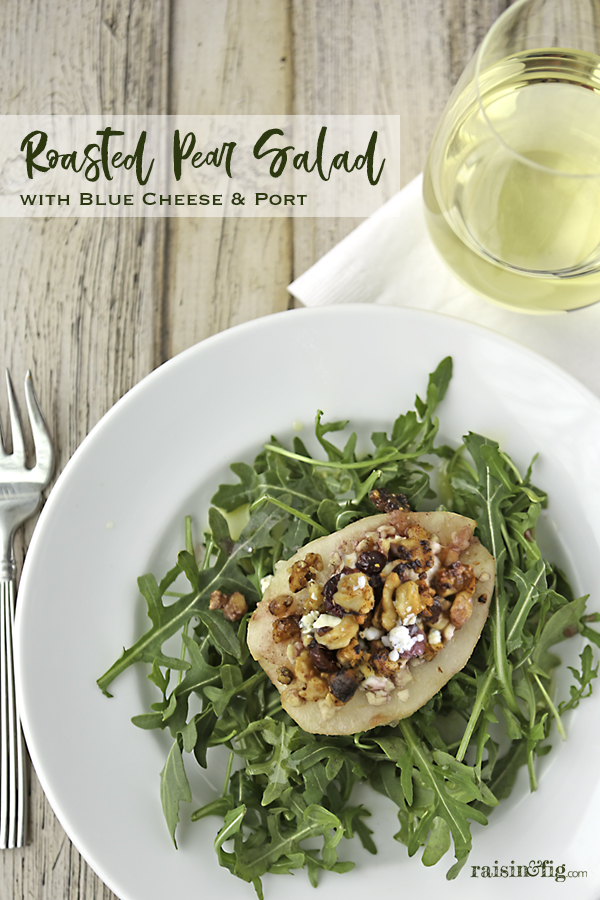 "We should have you over for dinner!"
We've all said it… and meant it… but for whatever reason, the dinner just never happens. Yet when it does, it's always a treat. Last summer, some "new-ish" friends DID follow through and invited us over. We knew the company would be great — the delicious meal was a bonus! They served steaks from the grill, warmed bread and this Roasted Pear Salad with Blue Cheese and Port. Simple. Elegant. Fabulous.
Thankfully, our hostess shared the recipe – and I've been making it ever since — for many of my dinners with friends. 
We all love those recipes that are quick and easy enough for a weeknight meal (or girl's lunch), but also have enough "curb appeal" for entertaining. Turns out, this is one of The Barefoot Contessa's recipes, so it's no surprise it fits the bill.
The original recipe calls for Anjou pears to be filled with cranberries, walnuts and blue cheese, then drizzled with a mixture of port, brown sugar and apple cider, before roasting in the oven. They're served warm or at room temperature on top of a bed of greens, dressed with a simple combination of fresh lemon juice, good olive oil and some of the basting liquid from the pears.
The pears and the dressing can both be made ahead of time. You can roast the pears earlier in the day, and just bring them back to room temp or pop them in a warm oven for a bit before plating.
Having made this several times since last summer, I've played with it — sometimes out of creativity, sometimes out of necessity! I've substituted pecans for the walnuts. Forgotten the cheese. And just left out the sugar and apple cider and glugged port over the top. I'm thinking I might use those tiny wild blueberries instead of the cranberries next time, just for fun. Last night I didn't have arugula, so I used baby spinach and finely chopped kale. (Which apparently didn't disguise it enough, because Husband called me out for trying to sneak kale into his repertoire!) 
Sharing a home-cooked dinner with friends — old or new, is a gift. When the food is memorable, it's a bonus.
You know those friends you've been meaning to have over for dinner? Call them. 

Roasted Pear Salad with Blue Cheese & Port
Ingredients
3 ripe but firm Anjou pears
Freshly squeezed lemon juice (3 lemons)
3 ounces coarsely crumbled sharp blue cheese such as Stilton
¼ cup dried cranberries
¼ cup walnut halves, toasted and chopped
½ cup apple cider
3 tablespoons port
⅓ cup light brown sugar, lightly packed
¼ cup good olive oil
6 ounces baby arugula
Kosher salt
Instructions
Preheat the oven to 375 degrees F.
Peel the pears and slice them lengthwise into halves. With a small sharp paring knife and a melon baller, remove the core and seeds from each pear, leaving a round well for the filling. Trim a small slice away from the rounded sides of each pear half so that they will sit in the baking dish without wobbling. Toss the pears with some lemon juice to prevent them from turning brown. Arrange them, core side up, in a baking dish large enough to hold the pears snugly.
Gently toss the crumbled blue cheese, dried cranberries, and walnuts together in a small bowl. Divide the mixture among the pears, mounding it on top of the indentation.
In the same small bowl, combine the apple cider, port, and brown sugar, stirring to dissolve the sugar. Pour the mixture over and around the pears. Bake the pears, basting occasionally with the cider mixture, for 30 minutes, or until tender. Set aside until warm or at room temperature.
Just before serving, whisk together the olive oil, ¼ cup of lemon juice, and ¼ cup of the basting liquid in a large bowl. Divide the arugula among 6 plates and top each with a pear half. Drizzle each pear with some of the basting liquid, sprinkle with salt, and serve warm.