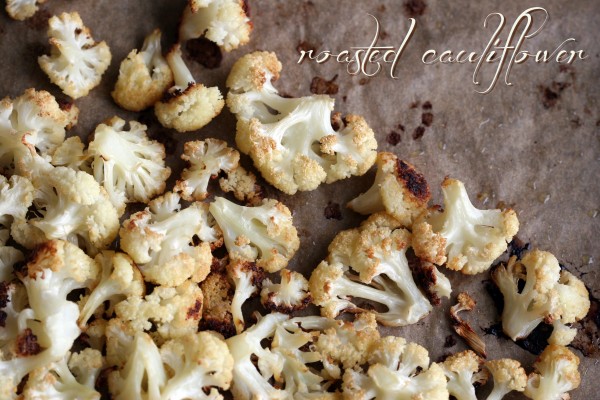 I can eat this like it's popcorn.
If you're not a raw cauliflower fan, I understand.  Raw "cruciferous" vegetables, as they're called, can be a little off-putting.  (For you, and those around you, if you get my drift.)
But just like with onions, roasting or caramelizing them changes some of their chemical properties, producing a wonderfully rich, almost sweet flavor.
But enough from "Bill Nye the Science Guy."
Are you trying to get more vitamin C and fiber into your day?  This is a good option.  Preparing it is fast and easy, and makes a great substitute for a higher carb side dish.  It's versatile too –  like a perfect pair of black pants, you can "dress it up, or dress it down."
Today, we're roasting it.  In a later post, we'll mash it like potatoes – yet another way to trick your family!

Roasted Cauliflower
Ingredients
1 head cauliflower, cut into florets
2 Tbs olive oil
1 tsp Kosher salt
1 tsp black pepper
¼ cup freshly grated Parmesan cheese
Optional: 1 tsp cayenne pepper or cumin
Instructions
Preheat oven to 400.
Rinse and drain florets. Place in large Ziploc bag with paper towel and shake to dry. Remove paper towel. Add olive oil, salt, pepper (and cayenne or cumin if using) and shake well to distribute oil and seasonings evenly.
Spread cauliflower in single layer on large baking sheet. Roast for 15 minutes, then sprinkle with Parmesan and toss. Return to oven for 10 minutes or longer, until starting to brown and caramelize.
What's your favorite way to make cauliflower?