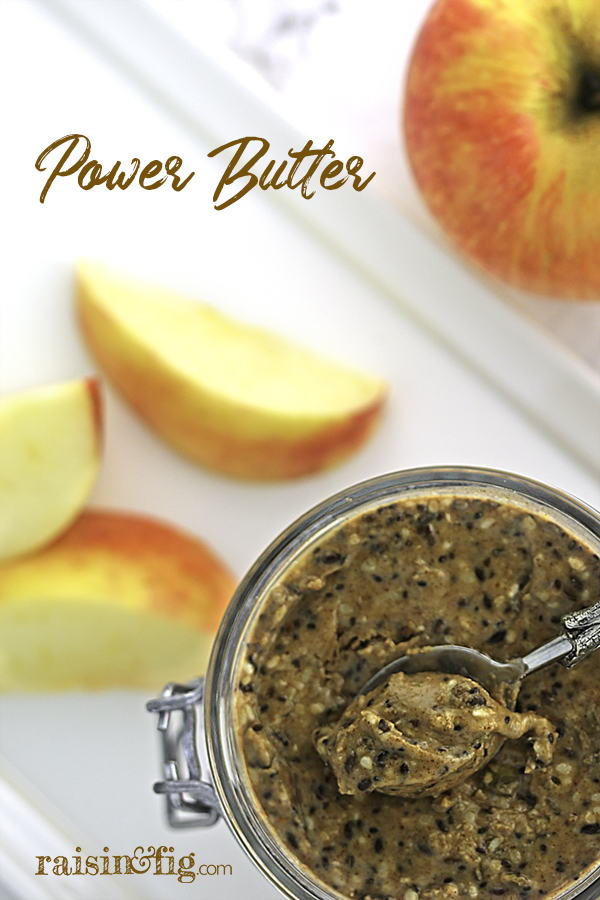 Most of the recipes I post here are tweaked versions of someone else's creativity. But this one is the result of several kitchen experiments! I was trying to replicate a super-expensive packaged nut butter that was costing me an embarrassing amount to order and have shipped. I have to say… my Power Nut Butter is better. It's full of good-for-you seeds and nuts (and no preservatives), and it's far less expensive!
There is always a jar of this on my counter, and a backup in the freezer or fridge. It's great on toast or apples or celery – and I love it swirled in to guilt-free Banana Ice Cream. I've also been known to walk by and just eat a big spoonful Straight from the jar, it's that good.
You can make this the super fast and easy way – using purchased natural almond butter, or add about 15 minutes to the process (pretty much hands-off time) and make your own. Either way, you're going to have a delicious and totally addictive nut butter that will take your sandwiches and snacks to the next level. 
This Power Nut Butter will keep well for about two weeks on the counter, longer in the fridge or freezer.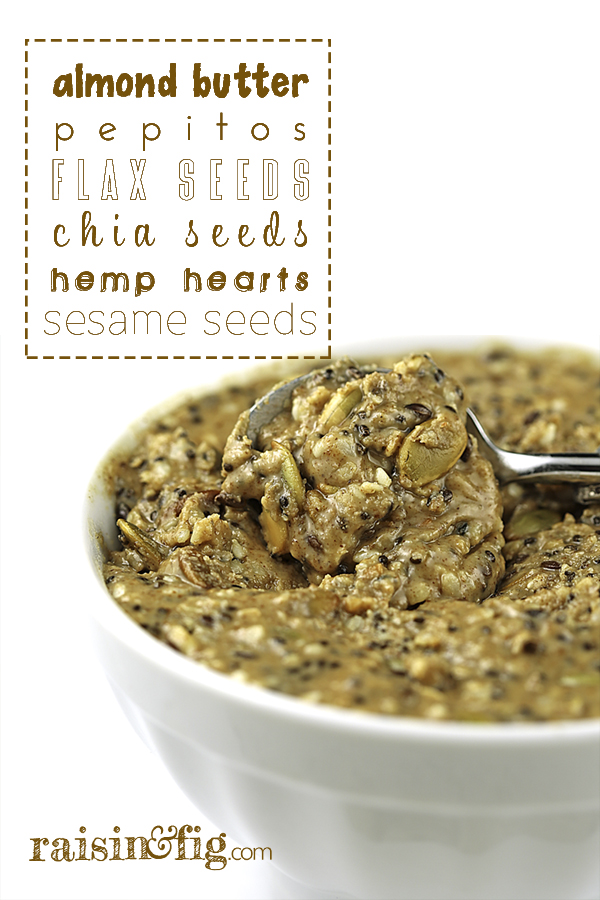 Power Butter
Ingredients
1½ cups raw almonds (or 1 ½ cups unsweetened natural almond butter)
5 Tbsp. virgin coconut oil
½ cup raw pumpkin seeds (pepitas)
⅓ cup raw sesame seeds
3 Tbsp. chia seeds
¼ cup flax seeds
¼ cup hemp hearts
1 Tbsp. pure maple syrup or agave, plus more to taste
1 tsp. kosher salt
Instructions
If making your own almond butter base, preheat the over to 350º. Otherwise, skip to step 3.
Toast almonds until just starting to release oils and turn a bit brown. Watch carefully - they're done as soon as you get a hint of the toasted nut aroma. Place in food processor* and grind for 6-8 minutes. Scrape down sides and test consistency. Depending on your processor, you may need to go as long as 12 minutes or more to get the creaminess you want. Be patient.
Meanwhile, heat oil and pumpkin seeds in a large skillet over medium, stirring occasionally, until oil is melted and pumpkin seeds are just starting to turn golden, about 3 minutes. Add sesame, chia and flax seeds and hemp hearts and cook, stirring constantly, until sesame seeds are golden and hemp starts to turn gold and pop, about 2 minutes. Transfer seeds to a large bowl and add almond butter, maple syrup and salt. Stir vigorously until smooth; let cool.
Notes
* I have a Vitamix that I love - and I've made nut butters in it too. I've just found that my Cuisinart food processor does a better job.

Do Ahead: Power Butter can be made 2 weeks ahead. Store airtight at room temperature. Keeps longer in the refrigerator, and freezes well.