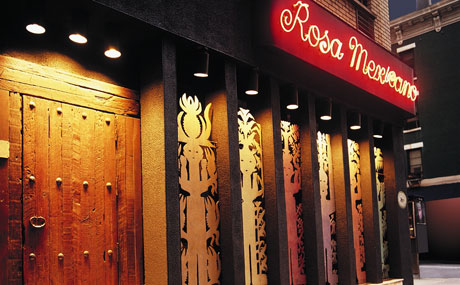 I've had a number of memorable meals at Rosa Mexicano, but one stands out above the rest.
It was early 1994, and Husband and I were in New York for some event or another, and as always, we made to book one dinner at the original Rosa's on 58th and First Avenue.   We were shown to a cozy spot in a little alcove that had just two tables, way in the back of the restaurant.
We were too busy enjoying a beverage and narrowing down the fabulous menu options to pay attention to the group sitting next to us.
But then the singing started …
There were three people at the next table.  One was a beautiful, mature woman sitting back and taking in the scene, offering a few comments from time to time in what I guessed was Italian.  Across from her was a man with glasses perched halfway down his nose, and a bunch of papers strewn in front of him.  Next to him was a distinguished, rather large man in an oversized denim shirt, wearing a pair of readers and studying a something on one of those papers intensely.  This was our singer.
He would sing a line, stop, think for a minute and then sing it again, changing a note or the tempo slightly.  His companions would offer some feedback.  The singing wasn't loud at all — in fact, I doubt anyone outside of our little alcove could hear.  But it was beautiful.  It was clear they were rehearsing for something.
While I've never been a huge opera fan, there are few songs I love more than Nessun Dorma – especially as sung by Placido Domingo.  While I didn't recognize the tune the man at the next table was rehearsing, the voice was unmistakeable.
I put down my chips and guacamole so that I could hang on every note, uninterrupted by the crunching in my ears.  I don't even remember what I ordered for dinner… some sort of pork I think.
Part of me wanted to close my eyes and just listen, and the other part of me wanted to stare.  Try as we might to pretend we didn't notice our neighbors, it was impossible.
I looked up after a particularly beautiful run and smiled.  Switching to English, he appeared genuinely apologetic, and asked if he was bothering us…!  We assured him he was not!!
Our little "concert" continued…
Sometime later, the music scores were gathered and their bill was paid.  The group got up to leave.
As Sr. Domingo tried to navigate the tight space, he bumped into our table with his rather large frame.  Drinks went flying.  He was mortified… more apologies!  We assured him there was no harm done and that we had had the most pleasant evening — and thanked him.
Rosa's is always memorable for the food, but this night stands out for a surprise private concert by one of the greatest tenors in the world.  It also resulted in another treasured memento from our adventures.
Give a listen to his latest album, a wonderful collection with some beautiful duets.