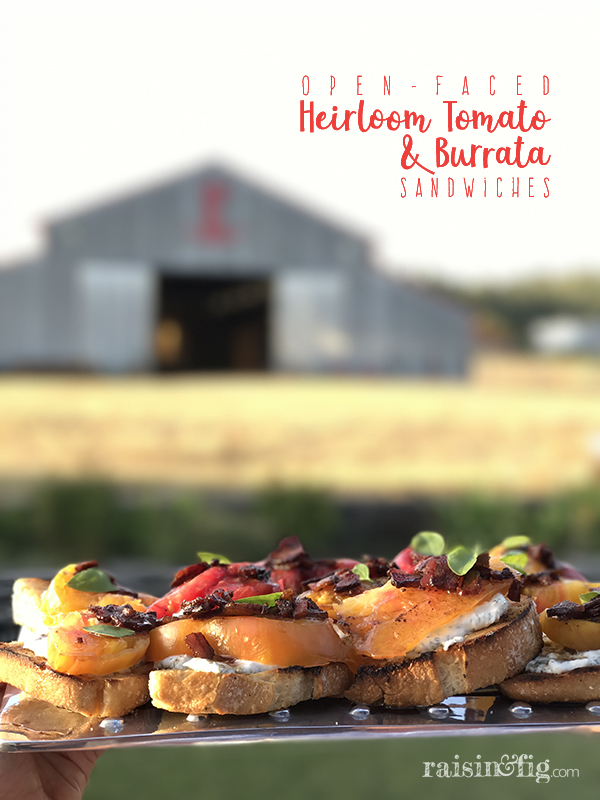 Summer means fresh produce, soaking up the great outdoors and casual entertaining. For us, hanging out with dear friends at The Rockin' K Ranch in Northern Idaho is about as close to heaven as you can get. When my friend Mim brought these Open-Faced Heirloom Tomato Burrata Sandwiches to a recent get-together at the barn, I knew I had to share.
Don't even think about calling this "bruschetta." In my experience, most restaurant bruschetta is rather bland, and all too "bread-y". Their flavor comes mostly from the balsamic vinegar, oil and garlic — the chopped tomatoes seem to be there for color and texture. (Has anyone ever commented on the awesome tomato flavor of restaurant bruschetta?) But these Open-Faced Heirloom Tomato Burrata Sandwiches take bruschetta to a whole new level.
If you've ever tasted a just-picked, farmers' market heirloom tomato and compared it to one from the produce section at your grocery store, you know the flavor difference is like night and day. So, thickly sliced heirloom tomatoes get the starring role in this delicious appetizer. 
Add crispy grilled bread, creamy burrata infused with fresh dill and basil, smokey bacon and a light drizzle of dressing, and you've got a winner.
We're just kicking off another Idaho summer and I'm looking forward to Saturday mornings at the awesome farmers' market here. Also on the agenda: lots of great hikes, trail rides, kayaking, and (hopefully) improving my golf game.
Most of all, though, I relish time spent with great friends — and really, really good food!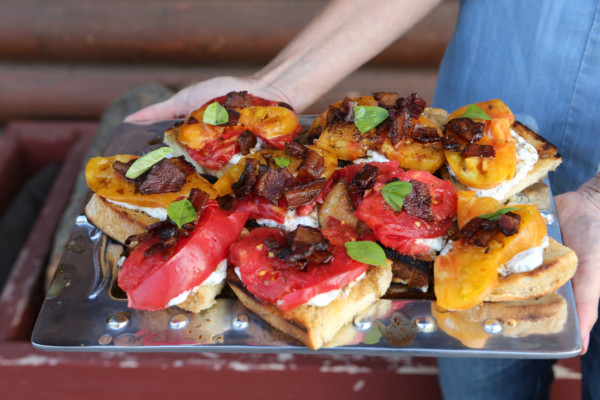 Open Faced Heirloom Tomato Burrata Sandwiches
Ingredients
6-8 ounces burrata cheese
2 teaspoons chopped fresh dill
2 teaspoons chopped fresh basil, plus more for serving
2 teaspoons lemon juice
kosher salt and pepper
6 slices whole grain or sourdough bread
3 heirloom tomatoes, sliced
6 slices bacon, chopped
3 tablespoons balsamic vinegar
4 tablespoons extra virgin olive oil
1 tablespoon honey
1 pinch crushed red pepper flakes
1 pinch each salt and pepper
Instructions
Preheat your grill to high heat or preheat your oven to 400 degrees F.
In a medium bowl, stir together the goat cheese, dill, basil, lemon juice and a pinch each of salt and pepper.
Place the bread on a baking sheet and drizzle with olive oil on both sides, season with salt and pepper. Place the bread on the grill and grill for about 2-3 minutes per side or until lightly chard. Remove from the grill.
Spread the burrata over the bread and top with tomatoes. Season the tomatoes lightly with salt and pepper.
Heat a large skillet over medium high heat and cook the bacon until crisp. To the bacon, add the vinegar, olive oil, honey, and a pinch each of crushed red pepper, salt, and pepper. Drizzle the vinaigrette over the tomatoes. Top with basil.