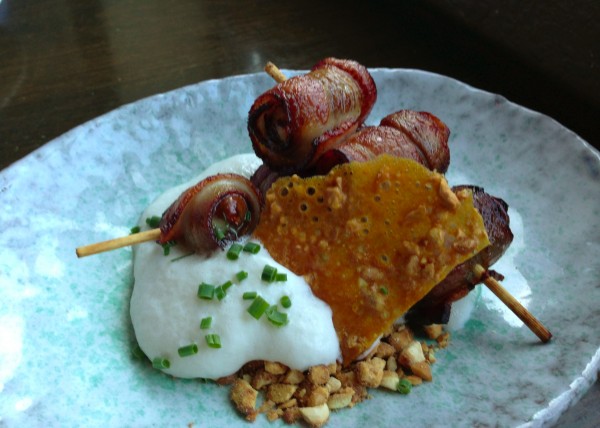 We've been on a quest lately to break out of our restaurant routine and try new spots.  Especially those that highlight local and sustainable food.  Last night's experiment required a 25 mile drive to Minneapolis' North Side, near Husband's old stomping grounds.
What I like about most of these restaurants we've tried – Victory 44 included, is that while they take their food seriously, they don't take themselves too seriously.  In other words, the restaurant isn't pretentious at all.  If you're a foodie, you'll love it.  If you wander in off the street for a bump and a burger, you'll love it.  And both are welcome.
We nabbed a high-top table by the front windows, with a great view of the open kitchen.  A blackboard on the wall behind us  listed the day's menu items, which were pondered over a tasty adult beverage.
If it's on the menu, by all means, order the Devils on Horseback.  Our server accurately described these as "meat candy."  Ohmyword, out-of-this-world naughty and fabulous!  Their version is a date, stuffed with smoked blue cheese and wrapped in bacon, served over a date/ginger foam with marcona almond brittle and crumbles.  MEAT CANDY!
We also had the apped'ouevre listed simply as "Shaved Beets."  It was beautiful!  A beet ribbon with smoked goat cheese emulsion, currant gel, dehydrated black currants, pickled beet powder and vinegar powder.  Wowzer.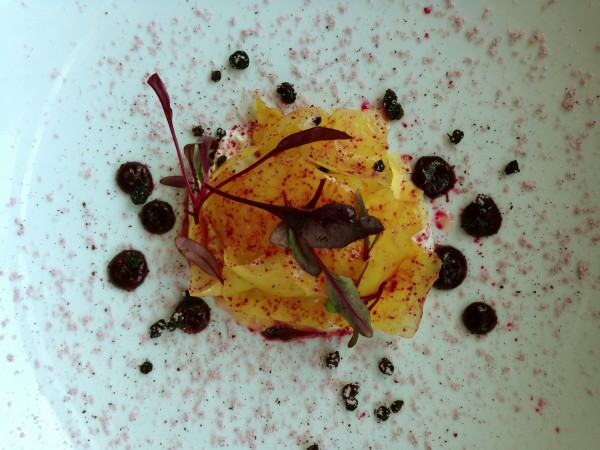 Husband ordered the scallops.  I failed here in noting the full description.  Maybe because I don't care for scallops and tuned it out.  But he said they were fabulous.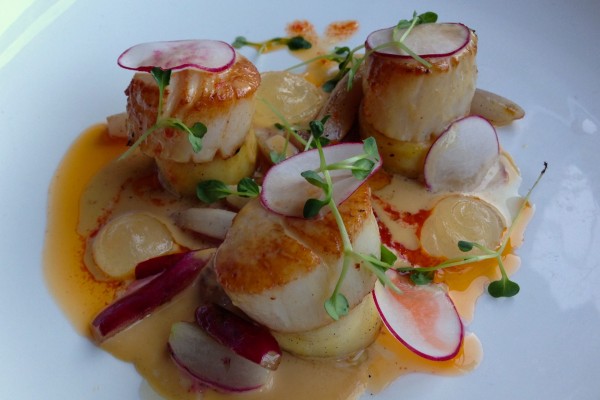 My Cauliflower Risotto was so good, I'm craving it at this moment.  It was created with cauliflower, almonds, almond milk, pickled shiitake mushrooms, chickweed, lemon vinaigrette and mushroom powder.  Absolutely delicious, and actually (I'm pretending) kind of healthy.  Or not.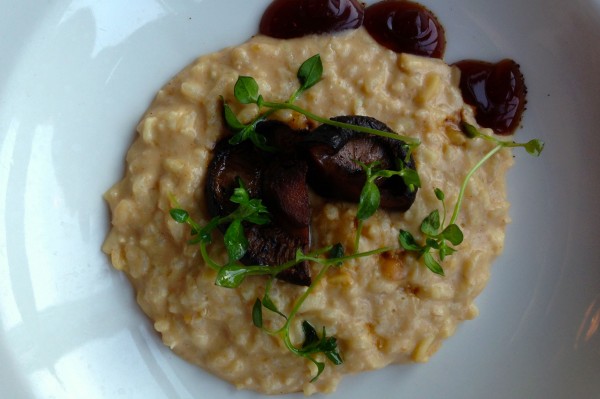 My pics don't do the food justice, but trust me, every bite was delicious.   And the prices were very reasonable.  If you're on Facebook, check out their page — the staff is great about updating it with what's cooking at the moment.
It's absolutely worth the drive.  Especially if their "meat candy" is on the menu.   In fact, let us know if you're headed there — we may join you!