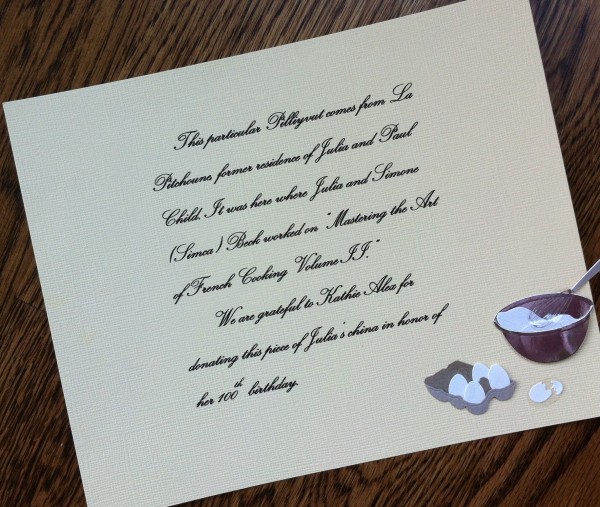 This past August marked what would have been Julia Child's 100th birthday.
We had just finished our kitchen remodel, and the local distributor for Wolf and SubZero appliances (both, in which, we made rather large investments) was having a party at their showroom.
I thought it would be fun: small plates inspired by Julia, prepared by local women chefs and paired with delicious wines. What's not to love? Who cared that we wouldn't know a soul that would be there?
Fresh cheeses and figs and tarts and crepes and soups and… wine! Every little stop on our tour was more delish than the last.
What I hadn't known in advance was that the evening was, in fact, a benefit for Les Dames d'Escoffier.  To that end, there were a variety of goodies available via silent auction.
The room in which the auction items were set up was rather small, dim, and frankly, not getting much traffic. Perhaps because there was no wine in there? Just saying…
I took a stroll through, thinking I might find a nice keepsake, or gift for one of my foodie friends. There were a bunch of cookbooks, Julia videos, and a whole slew of gift baskets teaming with gourmet ingredients and goodies.
I almost walked by the small white dish that was nestled in between two large gift baskets. Behind it, a sign was propped up, describing the little piece. However, the cursive font was small and would have been hard to read anyway, let alone after a few glasses of wine in a little dark room.
Being one of the younger guests (at 49 and counting) I leaned in closer to read the description:
"This particular Pilliyvut comes from La Pitchoune, former residence of Paul and Julia Child. It was here where Julia and Simone (Simca) Beck worked on 'Mastering the Art of French Cooking Volume II.' We are grateful to the donor of this piece of Julia's china in honor of her 100th birthday."
I was dumbfounded when I looked at the bid sheet and it was blank. Seriously? SERIOUSLY? I mean, the Smithsonian moved this woman's ENTIRE kitchen from Connecticut to Washington, D.C. so that its historic significance could be shared with the masses, and this little dish from her home in France was getting no interest?
As nonchalantly as possible, I picked up the pen and wrote my bid number and amount.
By this time, we'd made the rounds of each food station… twice… and I wasn't sure I could stall for the hour between placing my bid and when the auction would be declared over.
Thankfully, it was time for the main event (dinner and wine demo) and we were hustled to our seats in the (amazing) demonstration kitchen. There, we were treated to an amazing Beef Bourguignon (adapted from "Mastering the Art of French Cooking") along with a fabulous wine.
It was so good, it almost made me forget I was on a mission.
After the demo, I made a beeline for the auction room. I was still ten feet away from the little dish when I saw that there was an additional name on the bid sheet. Looking around to see if said bidder was a "squatter" — and deciding my competition wasn't that serious, I upped the ante and outbid her.
And just like that, it was over.  I had "won."
If you read my previous Julia story you'll understand that this keepsake is a special marker along my food journey.
I was a Nebraska girl who thought that Mrs. Paul's Fish-Sticks were gourmet seafood when Then-Boyfriend-now-Husband presented me with my first Julia memento. Since then, I've significantly broadened my food repertoire AND my kitchen skills, and am now a woman who lives to eat.
I'm no Julia Child, but I'm no slouch in the kitchen either. And every time I look at that little Pilliyvut dish I am grateful for the impact she has had on our culture.
I'm also grateful for a dimly lit room and a bad choice of fonts.
PS  Pick up or download "Dearie" for a great read!