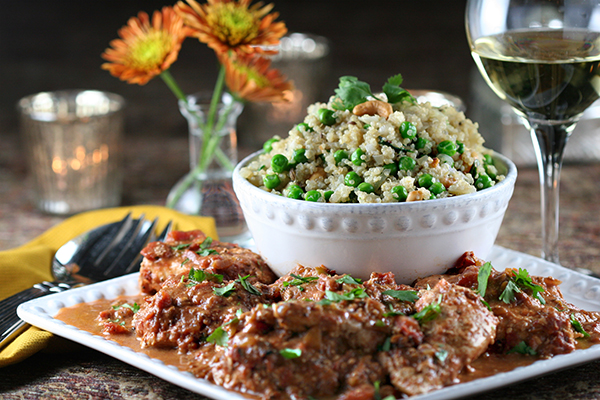 When it comes to picking a place to celebrate a special occasion, my go-to is "Indian food!"  I fully realize that I'll be wearing elastic pants for the following week, but I also know that the Chicken Tikka Masala, Peas Pulao and Onion Kulcha I order will be worth every bite.
In the past, I haven't attempted to recreate any of my favorite Indian dishes at home. Mostly because the calories and fat typical in my favorites made me think I'd have to install a defibrillator under the kitchen sink as a precaution.
Recently, though, I came across a recipe for Chicken Tikka Masala in Cuisine at Home that made me reconsider.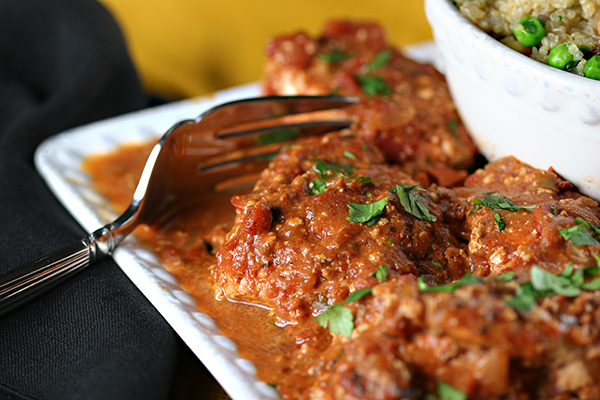 The recipe calls for chicken thighs vs. breasts, which are higher in fat. But having experimented with both, trust me – go with the thighs. Per serving, there are 324 calories and 15g fat here.  The calories aren't bad at all for an entree, but if you offset the fat grams with a healthy side dish or two, you'll be fine.
And, I still consider this Indian dinner a "treat."

Indian Dinner :: Chicken Tikka Masala
Ingredients
Marinade
1 cup plain yogurt
2 Tbs. fresh lemon juice
1 Tbs. minced fresh garlic
1 Tbs. minced fresh ginger
½ tsp. kosher salt
½ tsp. garam masala
¼ tsp. cumin
¼ tsp. coriander
⅛ tsp. cayenne pepper
8 boneless, skinless chicken thighs
Sauce
1 Tbs. vegetable oil
1 cup diced onion
2 tsp. garam masala
1½ tsp minced garlic
1½ tsp minced ginger
1 serrano chile, seeded and minced
2 Tbs tomato paste
1 can crushed tomatoes (15 oz. - preferably Muir Glen Fire Roasted)
¼ cup heavy cream
salt and pepper
chopped fresh cilantro
Instructions
For the marinade, combine yogurt, lemon juice, garlic, ginger, salt, garam masala, cumin, coriander and cayenne; set aside.
Pierce chicken in several places, then transfer to a large bowl. Pour marinade over chicken; toss to coat. Cover chicken and refrigerate at least 1 hour or overnight.
Preheat broiler with rack 6-8 inches from the element.
Remove chicken from bowl; discard marinade. Transfer chicken to a broiler pan; broil 8 minutes. Remove chicken from broiler; transfer to 4-6 quart slow cooker.
For the sauce, heat oil in a large skillet over medium-high. Add onion and cook until just beginning to brown, 5 minutes. Add garam masala, garlic, ginger and serrano; cook until fragrant, 1 minute. Stir in tomato paste; cook 1 minutes. Deglaze the pan with tomatoes, scraping up any browned bits on bottom of pan. Transfer mixture to slow cooker; stir to coat.
Cover slow cooker and cook chicken on low-heat setting until tender, 3 hours. Transfer chicken to a serving platter; set aside. Whisk cream into sauce; season with salt and black pepper. Pour sauce over the chicken and garnish with chopped cilantro.
Here's my take on
Peas Pulao
– a great side dish to go with this recipe. The Onion Kulcha? Still working on that.