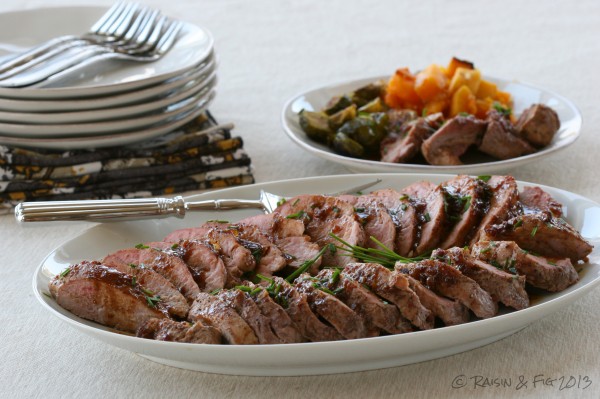 My niece Katie had an assignment for food class last week where she had to prepare a meat dish and submit pics of the process.  She's not a huge fan of the kitchen (yet!) so I suggested this recipe.  I'm proud to say she did a beautiful job.  (A takeaway here is that you could put your teenager in charge of this and it'll turn out!)
This Fig and Chile Glazed Pork Tenderloin is one of my favorite versatile go-tos.  Whether serving a large crowd at a casual buffet, making a special dinner, or just needing an easy weeknight meal, this tasty tenderloin is a great choice.  Tonight I'm serving it with Brussels sprouts and roasted butternut squash.
And don't just file this recipe under "main dishes."  You can slice the pork super thin and serve it on crostini topped with a little soft cheese and some fig spread – or perhaps a chunk of pear – as an appetizer.  Leftovers are great as an addition to a fried rice or other stir fry.
When I finally embraced a meat thermometer to alert me when the meat reached the desired temperature, I had a newfound confidence that the recipe would turn out great.  Every.  Time.  (My oven comes with a probe that's connected — pretty handy.  But you can get the same alerts with a probe/thermometer or just use an instant read thermometer from your favorite kitchen store.)  Prefer grilling?  Go for it!  It's great grilled too.

Fig & Chile-Glazed Pork Tenderloin
Author:
Original recipe from Cooking Light
Serves:
8 servings (serving size: about 3 ounces)
Ingredients
½ cup fig preserves (I like Dalmatia or Stonewall Kitchen)
¼ cup rice vinegar
1 tablespoon chile paste with garlic
1 tablespoon low-sodium soy sauce
½ teaspoon kosher salt, divided
2 (1-pound) pork tenderloins, trimmed
½ teaspoon freshly ground black pepper
cooking spray
fresh chives, chopped
Instructions
Preheat oven to 375 (or prepare grill to medium-high).
Combine preserves, vinegar, chile paste, soy sauce, and ¼ teaspoon salt, stirring with a whisk. Sprinkle pork with ¼ teaspoon salt and pepper. Place pork in large baking dish, coated with cooking spray and bake, turning occasionally and basting frequently with fig mixture. Remove when thermometer reads 155 (about 25 minutes, depending on the thickness). Cover with foil and let rest 10 minutes before slicing.
Garnish with fresh chives, if desired.