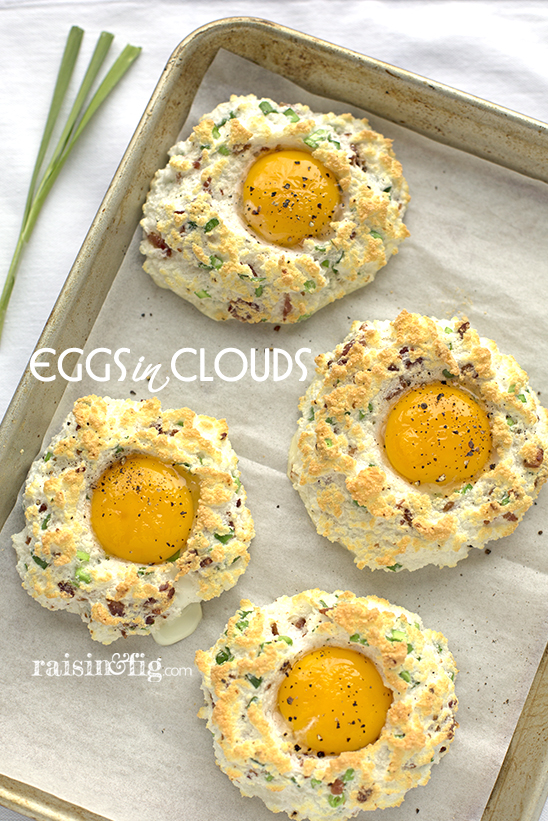 Eggs aren't the enemy! The Raisin & Fig household has been doing a LOT of reading about good vs. evil – when it comes to food. For years, we were told that if you were trying to manage cholesterol and heart health, then eggs were bad. However, the latest research – and there's lots of it, tells a different story. So we're sharing this recipe for "Eggs in Clouds" to welcome these little orbs of sunshine back to your table.
If you're a fan of eggs, you might be completely satisfied with scrambled, poached or boiled. But sometimes it's fun to mix it up a bit. Especially when you have company. When I saw these in a magazine, I had to give them a try.
(If, like me, you're one of those people who loves dipping toast into perfectly runny yolks, but doesn't really care for the texture of the whites, Eggs in Clouds take care of that!)
This version is flavored with cheese, chives and bacon, but the possibilities are endless – try some diced hot peppers, finely crumbled sausage, or just a bunch of different chopped herbs.
If you've got kids, these make a fun and easy way to teach them some kitchen skills.

Quick Tip! Anytime you make bacon, set some aside to freeze. It's great to have on hand to crumble on salads or use in a recipe like this.
Back to that research about the food we eat… if you like being proactive about your health, check out my most recent list of must-reads and must-sees:
Books
Food: What the Heck Should I Eat
In Defense of Food (or anything by Michael Pollan!)
Salt Sugar Fat
The Blue Zones Solution
Documentaries
FedUp
Food Inc.
Rotten

Eggs in Clouds
Ingredients
4 eggs
¼ cup grated pecorino-romano
¼ cup chopped chives
¼ cup crumbled bacon
pinch of salt
Pepper
Instructions
Separate eggs, putting whites in 1 large bowl and yolks in 4 separate small bowls. Whip whites until stiff peaks form. Fold in cheese, chives and bacon. Spoon into 4 mounds on parchment-lined baking sheet; make a deep well in center of each. Bake at 450 degrees for 3 minutes, then and 1 yolk to each well; season with pepper. Bake until yolks are just set, 2 to 3 minutes.