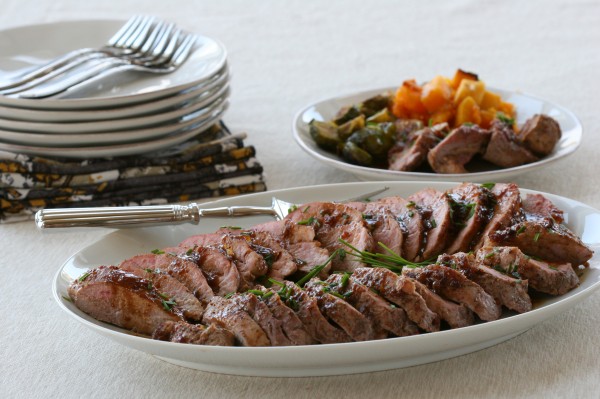 Fig & Chile-Glazed Pork Tenderloin
Author: Original recipe from Cooking Light
½ cup fig preserves (I like Dalmatia or Stonewall Kitchen)
¼ cup rice vinegar
1 tablespoon chile paste with garlic
1 tablespoon low-sodium soy sauce
½ teaspoon kosher salt, divided
2 (1-pound) pork tenderloins, trimmed
½ teaspoon freshly ground black pepper
cooking spray
fresh chives, chopped
Preheat oven to 375 (or prepare grill to medium-high).
Combine preserves, vinegar, chile paste, soy sauce, and ¼ teaspoon salt, stirring with a whisk. Sprinkle pork with ¼ teaspoon salt and pepper. Place pork in large baking dish, coated with cooking spray and bake, turning occasionally and basting frequently with fig mixture. Remove when thermometer reads 155 (about 25 minutes, depending on the thickness). Cover with foil and let rest 10 minutes before slicing.
Garnish with fresh chives, if desired.
Recipe by
Raisin & Fig
at https://www.raisinandfig.com/fig-and-chile-glazed-pork-tenderloin/