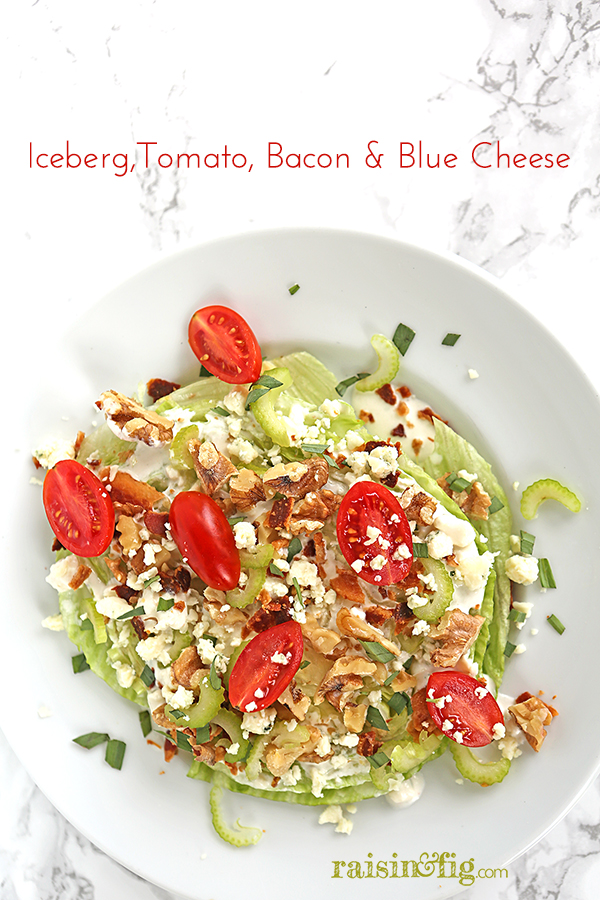 Iceberg with Tomatoes, Blue Cheese & Bacon
Author: db Brasserie, The Venetian, Las Vegas
1 cup walnuts
4 slices cooked bacon, crumbled
8 ounces blue cheese, crumbled, divided
½ cup crème fraîche or sour cream
½ cup mayonnaise
5 teaspoons sherry vinegar or red wine vinegar
2 teaspoons fresh lemon juice
1 teaspoon hot sauce
Kosher salt, freshly ground pepper
1 head of iceberg lettuce, cut crosswise into four 1-inch-thick slices
2 celery stalks, thinly sliced
1 pint cherry tomatoes, quartered
1 tablespoon finely chopped tarragon
Preheat oven to 350°. Toast walnuts on a rimmed baking sheet, tossing once, until golden brown, 8–10 minutes. Let cool; coarsely chop.
Place half of blue cheese in a medium heatproof bowl and microwave on medium until melted, about 1 minute (this will make it easier to whisk). Add crème fraîche, mayonnaise, vinegar, lemon juice, and hot sauce to blue cheese and whisk until smooth; season dressing with salt and pepper. Cover and chill until cold, at least 30 minutes.
Place 1 slice of iceberg lettuce on each plate and spoon about ¼ cup dressing over each. Top with walnuts, bacon, celery, tomatoes, tarragon, and remaining blue cheese.
Recipe by
Raisin & Fig
at https://www.raisinandfig.com/iceberg-tomatoes-blue-cheese-bacon/