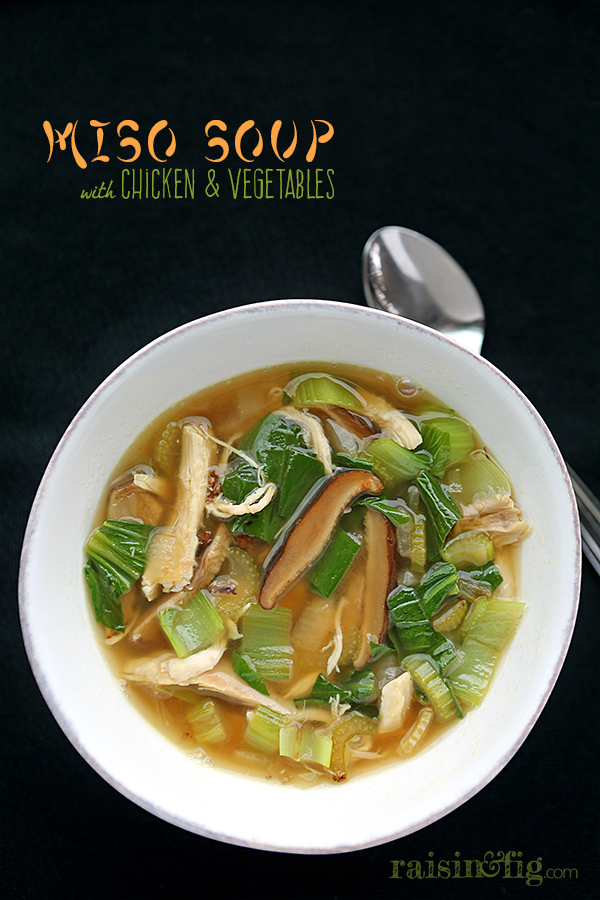 Miso Soup with Chicken & Vegetables
Author: adapted from Bon Appetit
1 medium onion, chopped
6 oz. shiitake mushrooms, stems removed, caps sliced
2 celery stalks, thinly sliced
Kosher salt
1 Tbsp. vegetable oil
6 cups low-sodium chicken broth {preferably homemade}
1 rotisserie chicken, shredded
4 heads baby bok choy (about 12 oz.), trimmed, cut into bite-size pieces
3 Tbsp. white miso (fermented soybean paste)
Garnish
Heat oil in a large pot over medium-high heat. Add onion, mushrooms, and celery; season with salt. Cook, stirring, until vegetables are just beginning to soften and beginning to brown, 5–7 minutes.
Add broth and bring to a boil. Add shredded chicken and bok choy, cover pot, and cook until bok choy is wilted, about 3 minutes. Mix miso with ¼ cup warm water, stirring until dissolved. Stir into soup.
Serve soup with avocado, lime wedges, chili paste, and cilantro.
I forgot to pick up fresh shiitakes, but I happened to have dried ones in the pantry. I just reconstituted them in boiling water for about 10 minutes.
Recipe by
Raisin & Fig
at https://www.raisinandfig.com/miso-soup-with-chicken-vegetables/