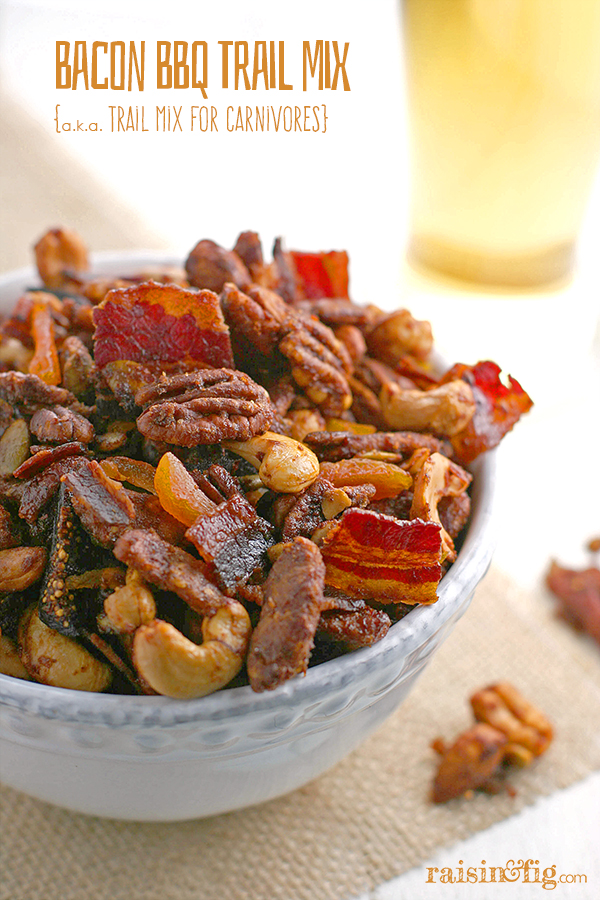 Bacon BBQ Trail Mix {a.k.a. Trail Mix for Carnivores}
Author: adapted from Chef Edward Lee's recipe
12 slices bacon
3 Tbs maple syrup
1⁄2 cup cashews
1⁄2 cup pecans
1⁄2 cup sesame sticks
1⁄4 cup almonds {Marcona, if you prefer}
1⁄4 cup pumpkin seeds
2 tbsp. unsalted butter
2 tsp. sugar
1 tsp. kosher salt
1⁄2 tsp. freshly ground black pepper
1⁄2 tsp. garlic powder
1⁄2 tsp. smoked paprika
1⁄4 tsp. cayenne
1⁄4 tsp. cinnamon
1⁄4 tsp. cumin
3 Tbs barbecue sauce
6 dried apricots, thinly sliced
3 dried figs, thinly sliced
Heat oven to 250°.
Lay bacon on an aluminum foil-lined baking sheet fitted with a wire rack. Brush bacon with maple syrup; bake until the fat has rendered and the bacon is dry like jerky, 1–1 1⁄2 hours. Let bacon cool and chop into 1⁄2″ pieces; set aside.
Heat oven to 300°.
Heat a 12″ skillet over medium; toast cashews, pecans, sesame sticks, almonds, and pumpkin seeds until fragrant and beginning to color, 3–5 minutes. Add butter, sugar, salt, pepper, garlic powder, paprika, cayenne, cinnamon, and cumin; toss to melt butter. Remove from heat and stir in barbecue sauce; spread evenly onto a parchment paper-lined baking sheet.
Bake, stirring occasionally, until mixture is dry and toasted, about 25 minutes. Stir in reserved bacon, the apricots, and figs; bake 15 minutes more. Let trail mix cool completely before serving.
Store in an airtight container up to 1 month.
Recipe by
Raisin & Fig
at https://www.raisinandfig.com/bacon-bbq-trail-mix-a-k-a-trail-mix-for-carnivores/