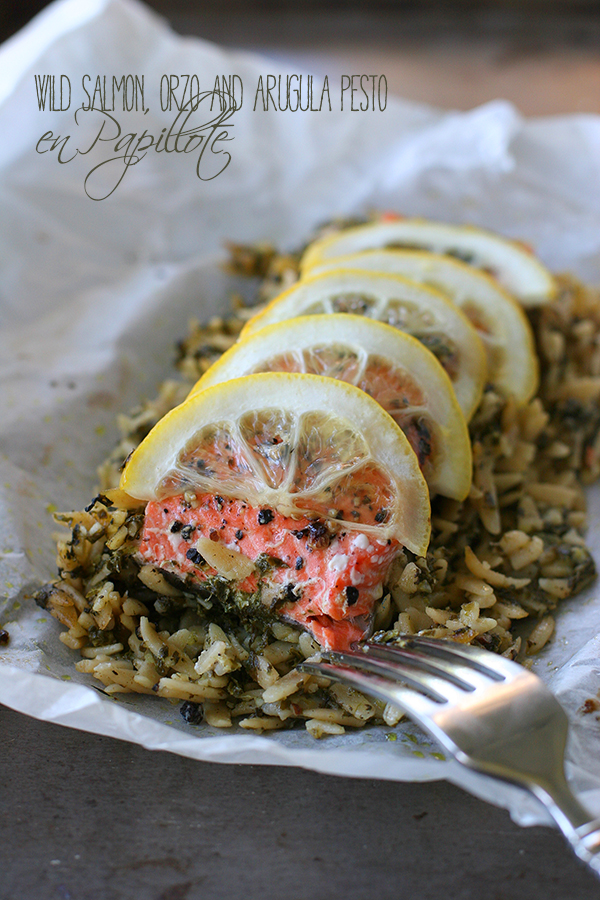 Wild Salmon, Orzo & Arugula Pesto en Papillote
Author: Food & Wine Magazine, October 2012
Salt
10 ounces baby arugula
1 pound orzo pasta
¾ cup freshly grated Parmigiano-Reggiano cheese
3 garlic cloves, coarsely chopped
1 tablespoon grated lemon zest
1 teaspoon distilled white vinegar
½ medium shallot, chopped
¼ teaspoon Tabasco
¼ teaspoon sugar
⅔ cup extra-virgin olive oil
Six 6-ounce, skinless, center-cut wild salmon fillets
6 tablespoons dry white wine
Freshly ground pepper
2 lemons, very thinly sliced
Preheat the oven to 375. Fill a bowl with ice water and bring a pot of salted water to a boil. Add the arugula to the boiling water and stir until just wilted, 20 seconds. Transfer to the ice water to cool; drain and squeeze out as much water as possible. Transfer the arugula to a food processor.
Boil the orzo, stirring, until almost al dente, 9 minutes. Drain, rinse under cold water and transfer to a large bowl.
Meanwhile, add the cheese, garlic, lemon zest, vinegar, shallot, Tabasco and sugar to the arugula and pulse to chop. With the machine on, drizzle in the olive oil and process until smooth. Season with salt. Add the pesto to the orzo and toss.
Arrange six 16-by-12½-inch sheets of parchment paper on a work surface. In the center of each sheet, mound 1 heaping cup of the orzo and top with a salmon fillet. Drizzle 1 tablespoon of wine over each fillet. Season with salt and pepper. Arrange the lemon in a single layer on the fish. Bring up 2 opposite sides of the parchment over the fish and orzo and fold to seal.
Arrange the papillotes on a baking sheet, leaving space between them. Bake for 18 minutes, until the packets are slightly puffed. Transfer to plates, open the packets carefully to release steam and serve.
Recipe by
Raisin & Fig
at https://www.raisinandfig.com/salmon-orzo-arugula-pesto-en-papillote/