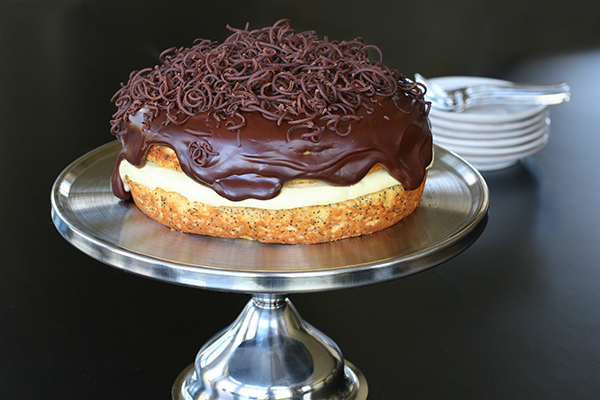 CAKE
¼ cup poppy seeds
½ cup pineapple juice
1 package white cake mix
5 eggs
1 small package instant vanilla pudding
½ cup cooking oil
½ cup water
1 tsp almond extract
PASTRY CREAM FILLING
2 cups milk {I used almond milk}
½ cup sugar
4 large egg yolks
2 tsp pure vanilla extract
Pinch of salt
4 Tbs cornstarch
CHOCOLATE GANACHE
6 oz. 60-percent bittersweet chocolate, finely chopped
¾ cup heavy cream
GARNISH
4 oz. 60-percent bittersweet chocolate
FOR CAKE
Soak poppy seeds in pineapple juice for about 20 minutes. Preheat oven to 350º. Grease two 9" round cake pans. Combine poppy seed mixture with the remaining ingredients in electric mixer and beat for 5 minutes. Divide between prepared pans and bake until toothpick inserted in the middle does out clean, about 30 minutes. Let cool in pan for 10 minutes, then invert onto wire rack; let cool completely.
FOR CREAM FILLING
In a medium saucepan, combine milk and ¼ cup sugar over medium heat, and bring to a simmer. Meanwhile, in a medium bowl, whisk egg yolks and remaining sugar until well combined. Whisk in vanilla and salt.
Whisk in cornstarch, 1 tablespoon at a time, until fully incorporated. While whisking egg mixture constantly, slowly add 1 cup of the heated milk to the egg mixture. Strain this mixture into milk remaining in saucepan. Continue cooking over medium heat, whisking constantly, until mixture thickens, 2-3 minutes.
Transfer to a medium bowl, and cover with plastic wrap, pressing wrap against the filling to prevent a skin from forming. Refrigerate at least 3 hours and up to overnight. Mixture will be very thick. If it's too thick to spread smoothly, place in a blender for about 15 seconds.
FOR CHOCOLATE GLAZE
Place chocolate in a bowl. Bring cream to a boil in a 1-qt. saucepan over high heat; pour over chocolate and let sit for 1 minute. Slowly stir chocolate and cream until smooth and shiny; set aside to cool for 10 minutes.
FOR GARNISH
Melt chocolate in microwave safe bowl, in 15 second increments, watching carefully. Spread melted chocolate evenly over the back of a rimmed baking sheet to create a thin coating. Let stand at room temperature until it loses its sheen, about 15 minutes. Refrigerate until the chocolate is set, but not hard. About 10 minutes. Pull a citrus zester through the chocolate to create narrow curls.