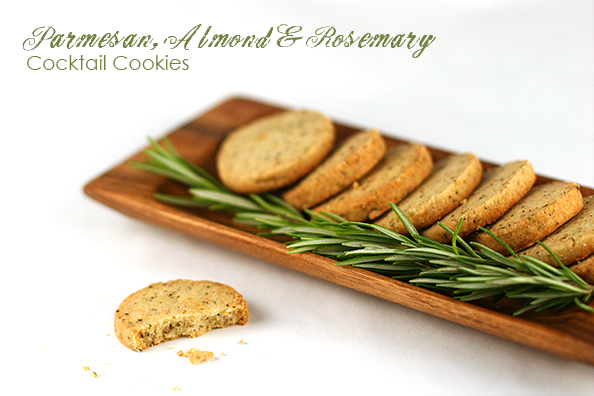 Parmesan, Almond & Rosemary Cocktail Cookies
Author: Adapted from Dorie Greenspan
½ cup slivered almonds
3 tablespoons sugar
2 tablespoons finely chopped rosemary
2 cups all-purpose flour
⅓ cup freshly grated Parmesan-Reggiano cheese (1 ounce)
½ teaspoon salt
2 sticks cold unsalted butter, diced
2 large eggs yolks, beaten
Preheat the oven to 350°. Spread the almonds in a pie plate and toast for about 10 minutes, until golden. Turn off the oven and let the almonds cool.
In a bowl, rub the sugar with the rosemary until moist and aromatic. In a food processor, combine the rosemary sugar with the almonds, flour, cheese and salt and pulse until the almonds are coarsely chopped. Add the butter and pulse until the mixture resembles a coarse meal. Add the egg yolks and pulse until large clumps of dough form.
Turn the dough out onto a work surface and knead gently until it comes together. Divide the dough in half and form into a rough log shape. Place dough on parchment and use the parchment to help roll the dough into a smooth log that is about 1½ inches in diameter. Repeat with other half of dough. Place logs onto a baking sheet and freeze for 30-45 minutes, until firm.
Preheat the oven to 350º and line 2 large baking sheets with parchment paper.
Working with one log at a time, slice into ¼ inch thick cookies. Arrange the cookies about 1 inch apart on the parchment paper-lined baking sheets.
Bake the cookies for about 15 minutes, until they are just firm; shift the baking sheets from top to bottom and front to back halfway through. Let the cookies cool on the baking sheets for 3 minutes, then transfer them to a wire rack to cool completely.
Recipe by
Raisin & Fig
at https://www.raisinandfig.com/parmesan-almond-rosemary-cocktail-cookies/