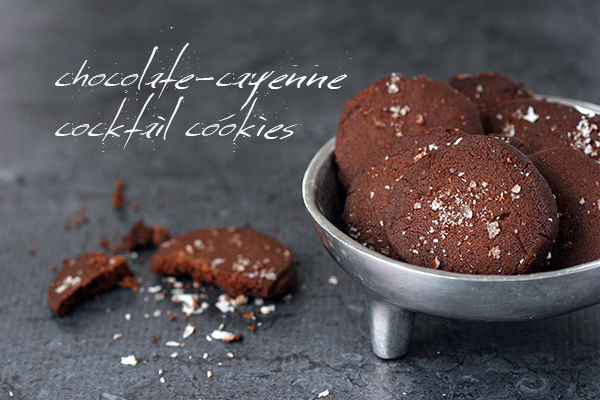 Chocolate-Cayenne Cocktail Cookies
Adapted from Dorie Greenspan
1½ cups flour
½ cup unsweetened cocoa powder
½ teaspoon cayenne pepper
½ teaspoon fine sea salt
2 sticks unsalted butter, softened
⅓ cup confectioners' sugar
2 tablespoons granulated sugar
1 large egg yolk
Maldon salt, for sprinkling
Sift the flour, cocoa powder, cayenne and sea salt into a bowl and whisk to combine. In a standing mixer fitted with the paddle, beat the butter with both sugars at low speed until creamy. Add the egg yolk and beat until smooth, then add the dry ingredients and beat until incorporated.
Turn the dough out onto a work surface and knead gently until it comes together. Divide the dough in half and form into a rough log shape. Place dough on parchment and use the parchment to help roll the dough into a smooth log that is about 1½ inches in diameter. Repeat with other half of dough. Place logs onto a baking sheet and freeze for 30-45 minutes, until firm.
Preheat the oven to 350º and line 2 large baking sheets with parchment paper. Working with one log at a time, slice into ¼ inch thick cookies. Arrange the cookies about 1 inch apart on the parchment paper-lined baking sheets and sprinkle with some Maldon salt.
Bake the cookies for about 15 minutes, until they are just firm; shift the baking sheets from top to bottom and front to back halfway through. Let the cookies cool on the baking sheets for 3 minutes, then transfer them to a wire rack to cool completely.
Recipe by
Raisin & Fig
at https://www.raisinandfig.com/chocolate-cayenne-cocktail-cookies/