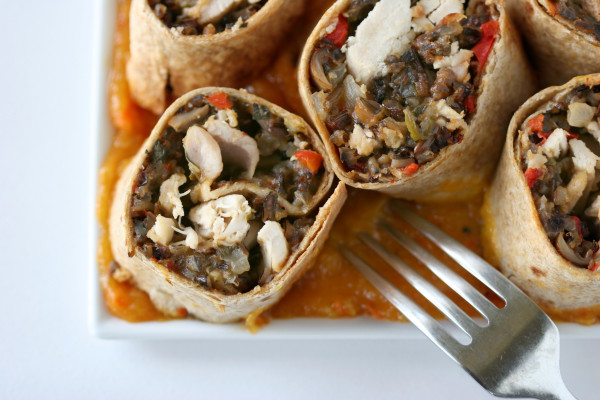 Chicken-Wild Rice Burrito w/ Mango-Habanero Sauce
Author: Adapted from Tejas
Burrito
12 ounces wild rice, cooked until tender
3 red bell peppers, roasted, peeled, seeded and diced
3 poblano peppers, roasted, peeled, seeded and diced
1 Tbs butter
1 small yellow onion, diced
4 cloves garlic, minced
12 ounces portobello mushrooms, sliced
3 Tbs fresh marjoram, chopped
3 ounces Asiago cheese, grated
3 ounces Monterey Jack cheese, grated
1 rotisserie chicken, shredded without skin
8 whole wheat tortillas - 8 inch
melted butter
Sauce
1 Tbs peanut or vegetable oil
¼ cup diced onion
¼ cup diced carrot
1 fresh habanero chile, seeded and diced
3 mangoes, peeled, cored and diced
½ cup champagne vinegar (sherry vinegar fine too)
¼ cup ketchup
1 Tbs sugar
salt & pepper to taste
Preheat oven to 400.
Prepare wild rice according to package directions.
While rice cooks, place peppers on large baking sheet and roast for 30 minutes, turning once, until charred on skin side. Remove from sheet and place in covered bowl for 10 minutes (this helps loosen the skin so you can easily peel the peppers). Peel and dice the peppers.
Lower oven temperature to 375.
Heat butter over medium-high heat in saute pan and saute onions until they become translucent. Add garlic, mushrooms and peppers, and saute until mushrooms soften. Transfer mixture to large bowl with cooked wild rice, marjoram and the cheeses. Season to taste with salt and pepper.
Evenly distribute the rice mixture onto each tortilla, spreading to cover. Evenly distribute the chicken and roll each tortilla pinwheel style. Place seam side down on large baking sheet (either sprayed with cooking spray or covered with parchment). Brush each burrito with melted butter and bake at 375 for 15-20 minutes or until they become golden brown.
While burritos bake, make sauce. In a 2 quart saucepan, heat the oil. Saute the onions, carrots and habanero until onions are translucent. Add mangoes, vinegar, ketchup and sugar. Bring to a simmer for 10 minutes. Puree in blender until smooth. Season with salt and pepper and keep warm.
Allow burritos to rest for 3 minutes before slicing. Using a sharp serrated knife, slice each burrito into five even pieces. Spoon mango sauce onto plates and arrange the burrito, on end, around the plate.
Recipe by
Raisin & Fig
at https://www.raisinandfig.com/chicken-wild-rice-burrito-with-mango-habanero-sauce/