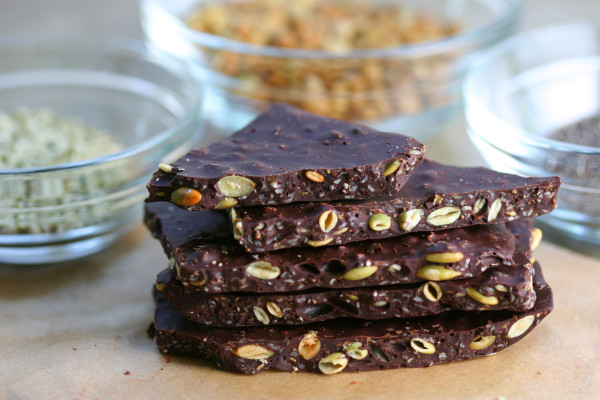 ¼ cup hemp seed
¼ cup pepitos
3 Tbs chia seed
¼ tsp sea salt (or to taste)
8 ounces dark chocolate (preferably 72% cacao)
Cut a piece of parchment paper to fit small baking sheet.
Toast seeds together in small skillet over medium-high heat, stirring constantly. (Watch closely and remove from heat just as the hemp seed starts turning golden.)
Break chocolate into pieces, and place in microwaveable-safe bowl. Microwave on high for 1 minute. Stir, and continue cooking in 30-second increments until chocolate is melted.
Mix seeds into chocolate mixture. Add salt to taste.
Spread chocolate on prepared baking sheet. Refrigerate for at least 2 hours.
Chop into squares. Makes 8 servings.