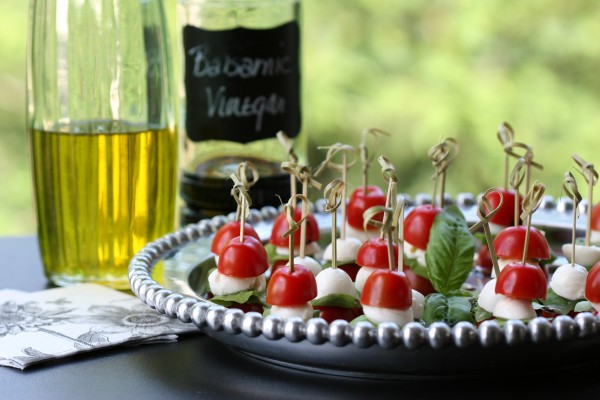 Option: Buy marinated mozzarella balls and forgo the balsamic reduction and olive oil drizzle.
¾ cup balsamic vinegar
1 pound cherry tomatoes
1 pound mozzarella balls (Ciliegine)
1 large bunch fresh basil
olive oil
salt
pepper
Pour balsamic vinegar into a small saucepan; bring to a boil over medium-high heat. Reduce heat to medium-low, and simmer until the vinegar has reduced to ¼ cup or until thickened enough to coat the back of a spoon. Set aside, and cool to room temperature.
Cut tomatoes in half crosswise.
To assemble: place toothpick or small skewer through mozzarella ball, a basil leaf (folded if necessary) and tomato, with cut side of tomato at the base of the toothpick (so it will stand on plate). Repeat with remaining cheese, basil and tomatoes.
Place on serving platter and drizzle with balsamic reduction, olive oil and salt & pepper to taste, or let guests dress their own.
Recipe by
Raisin & Fig
at https://www.raisinandfig.com/caprese-salad-on-a-stick/