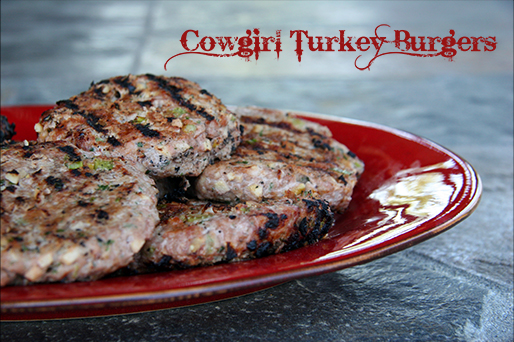 Author: adapted from Mar-a-Lago club's recipe
¼ cup thinly sliced scallions
½ cup finely chopped celery
3 Granny Smith apples , peeled and grated
1 Tbsp. salt
1 Tbsp. black pepper
2 tsp. Tabasco® or other hot pepper sauce
1 lemon , juiced and grated zest
½ bunch parsley , finely chopped
¼ cup Major Grey's Chutney, pureed if chunky
4 pounds ground turkey breast
Mix the scallions, celery and apples in a large bowl. Add remaining ingredients except turkey and thoroughly mix. Add turkey and gently mix until all ingredients are incorporated.
Shape into 12 burgers. Refrigerate for 2 hours, or freeze for 30 minutes.
Season the turkey burgers with salt and pepper. Place on a preheated, lightly oiled grill. Grill each side for about 8 minutes, until meat is thoroughly cooked. Let sit for 5 minutes.
Recipe by
Raisin & Fig
at https://www.raisinandfig.com/cowgirl-turkey-burgers/