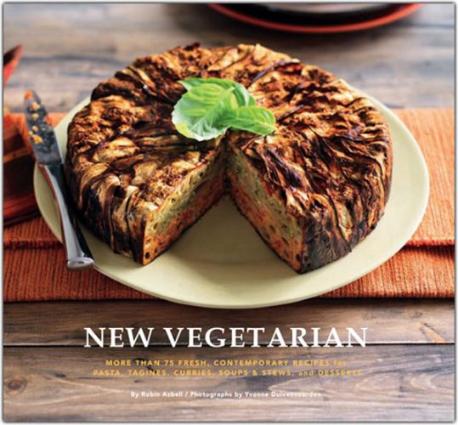 Grilled Vegetable Sformato
Author: Robin Asbell
This layered grilled vegetable sformato is pretty and filling enough to be a centerpiece main dish. It can be made a day ahead and reheated, or made a few weeks ahead and frozen, then thawed overnight in the refrigerator before reheating in the oven at 350°F. - Robin Asbell
3 large yellow bell peppers, or jarred roasted yellow peppers
½ cup olive oil
2 large eggplants, thinly sliced lengthwise
4 large eggs, lightly beaten
2 cups ricotta cheese
6 ounces Romano cheese, shredded
4 ounces Fontina cheese, shredded
½ teaspoon salt
½ teaspoon freshly cracked black pepper
1½ cups fresh basil leaves, washed and dried
3 cloves garlic, peeled
½ cup pistachios, shelled
1 cup sun-dried tomatoes, rehydrated
¼ teaspoon cayenne pepper
1½ cups whole wheat penne, cooked
½ cup dry breadcrumbs
Basil leaves
Preheat the broiler or barbecue grill and roast the bell peppers until skins are blackened. Place them in a small airtight container and close tightly to steam for 15 minutes. When cool enough to handle, peel, dice, and drain the peppers in a mesh colander, pressing out excess moisture. (If using jarred peppers, drain, rinse, and chop them.)
Brush an 11-inch springform pan with some of the olive oil, which will act as the form for the sformato, then set aside. Heat a grill pan or use the grill. Brush the eggplant with olive oil. Grill the slices until tender and decorated with black grill marks (running lengthwise), 2 to 3 minutes on each side. Put a small slice in the center of the springform pan. Lay slices in a fan or flower design covering the bottom and sides and leaving an inch or so hanging over the edges to wrap around the top of the filled pan.
In a large bowl, mix ricotta, eggs, cheeses, salt, and pepper. Remove half of the mixture to another bowl. Use a food processor to finely grind the basil, garlic, and pistachios, then mix it with half of the cheese mixture. Dice the tomatoes and add it to the other half of the cheese mixture, then mix in the cayenne. Divide the cooked pasta between the 2 bowls and fold the contents of each bowl together gently.
Preheat the oven to 400°F (200°C). Into the eggplant-lined pan, sprinkle 2 tablespoons of the breadcrumbs and distribute the pasta and tomato mixture. Level the surface and top with yellow bell peppers and another 2 tablespoons crumbs. Top with remaining pasta mixture, level, and cover with the remaining crumbs. Fold the overhanging eggplant back onto the top of the peppers.
Bake the sformato for 50 to 60 minutes and let stand for 20 minutes before serving to firm up. Run a sharp knife around edge of pan. Invert the pan onto a serving plate and release springform, carefully removing bottom. Garnish the sformato with the basil and serve.
Recipe by
Raisin & Fig
at https://www.raisinandfig.com/grilled-vegetable-sformato/