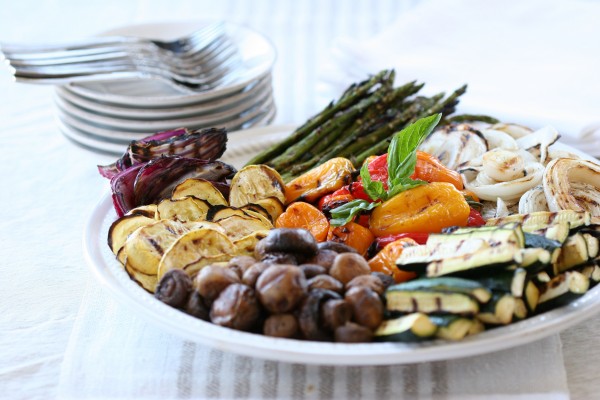 1 eggplant, sliced thin (use a mandoline if you have one)
1 bunch asparagus (about 1 pound), ends snapped off
3 white onions, cut into ½" slices
4 medium zucchini, cut in half, then quartered
½ pound cremini mushrooms, stems trimmed
3 medium yellow squash, cut into ½ " slices
1 red onion, quartered
½ pound sweet peppers
Prepare vegetables. Toss each (in a bowl, or Ziploc bag) with a bit of olive oil to coat lightly. Preheat grill to medium high.
Working in batches, grill vegetables until tender and and lightly charred. Don't move the vegetables too much, otherwise you won't get those great grill marks. The onion slices will take the longest - about 9 minutes, peppers about 7 minutes, zucchini and squash about 5 minutes and asparagus, about 4. Place a perforated grill pan on the grill grate and let it heat up for about 2 minutes. Place mushrooms in pan and toss occasionally until they release moisture and begin to brown, about 5 minutes.
Note: cooking times vary depending on your grill. Just pour yourself a beverage and keep a watchful eye!
Arrange vegetables on platter and serve. Garnish with fresh basil, or other fresh herbs.
Can be made 2-3 hours ahead. Cool slightly, cover loosely with plastic wrap and refrigerate. Bring to room temperature before serving.