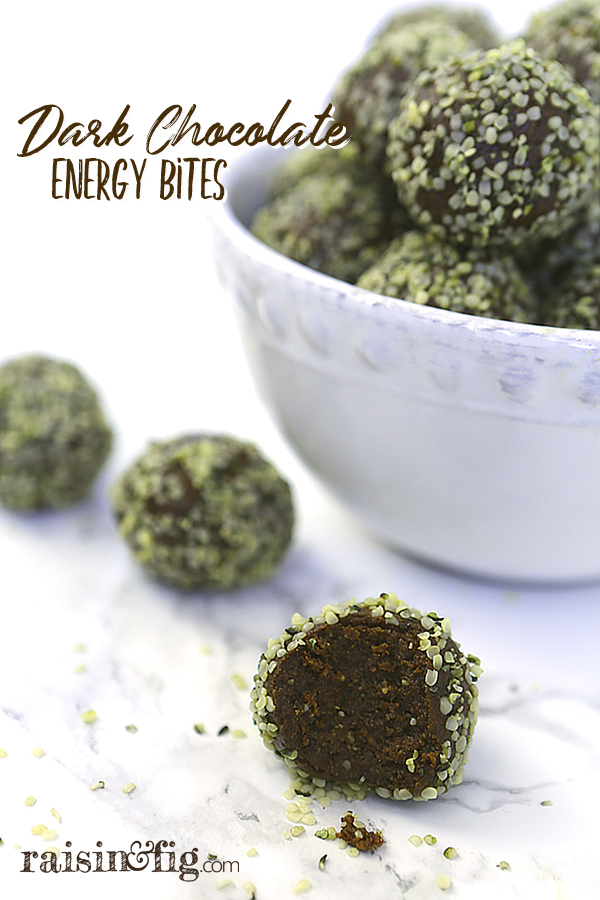 I just grabbed one of these Dark Chocolate Energy Bites as a reward for going to the mailbox — it's around -50º below zero with windchill! 
Truth be told, we weren't supposed to BE in the frozen tundra today. We had been invited to join a group of dear friends this week in Mexico — where, by my calculations, there's about a 135º temperature difference at the moment.
Alas, a competitive game of pickle ball resulted in a torn Achilles for Husband, which means no travel for the next couple of weeks. The good news is, I've got some unplanned time at home to play in the kitchen and get other things done. (I've been threatening to go all Marie Kondo on our storage room and closets, but haven't quite worked up the energy yet.)
Back to the Dark Chocolate Energy Bites. If you're looking to get more protein, a dose of healthy fats, or just need a quick pick me up before that afternoon meeting, make sure you have a batch of these on hand.
There is no added sugar in these little morsels. The sweetness comes from … dates. (If you're not a date fan, I promise, you won't know they're there!)
Energy bites, fat bombs, protein balls… whatever you call them, these are quick and easy to make, and so richly delicious.
Your flavor possibilities are endless. See the notes included within the recipe for variations.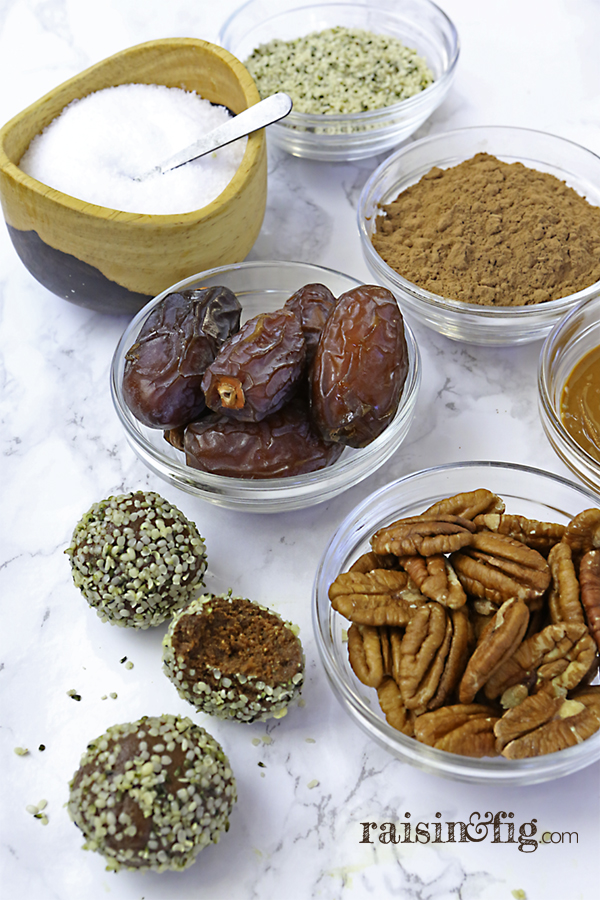 Dark Chocolate Energy Bites
Ingredients
1 cup packed dates, pitted
2 cups raw nuts (I used pecans)
6 Tbsp dark chocolate protein powder, cacao powder or unsweetened cocoa powder
3 Tbsp hemp seeds (plus more for rolling)
¼ tsp sea salt
3 Tbsp creamy nut or seed butter
1 Tbsp melted coconut oil
Instructions
Add dates to a food processor and pulse/mix until you have a paste-like consistency. Remove from processor bowl with a spatula and set aside.
Add nuts to the food processor and pulse into a fine meal. Then add protein powder (or whatever you are using) hemp seeds, and sea salt. Pulse a few more times to combine.
Add the dates back in along with the nut butter and melted coconut oil. Pulse to combine. The result should be a moist, slightlly grainy mixture. Don't worry if it's a little crumbly.
Using a cookie scoop or soup spoon, scoop out rounded tablespoon amounts and carefully form into balls. The dough will be somewhat fragile, so use the warmth of your hands to gently form/roll them into balls. There should be about 20-24 energy bites total, depending upon the size of your spoon.
Roll in extra hemp seeds. (Or alternatively, finely crushed nuts)
Store leftovers in a well-sealed container in the refrigerator up to 1 week or in the freezer up to 1 month.
Notes
Find Medjool dates if you can. But any kind will do -- just make sure you check for pits!
You can use your favorite kind of nut -- I typically use pecans or almonds, but you can use walnuts, pistachios, or whatever sounds good.
The cacao powder I used in this recipe is a ridiculously expensive
blend of cacao and a number of super foods
. But regular unsweetened cacao or cocoa powder work just as well.
Most grocery stores have hemp seeds or hemp hearts, typically in the health food section. You can find them
online
as well.
I had just made a batch of toasted cashew butter - so used that in this batch. But you can easily swap for creamy peanut butter or almond butter.
Not a fan of chocolate? Here's a great recipe for my other favorite from a fellow blogger: No Bake Almond-Butter Coconut Bites.