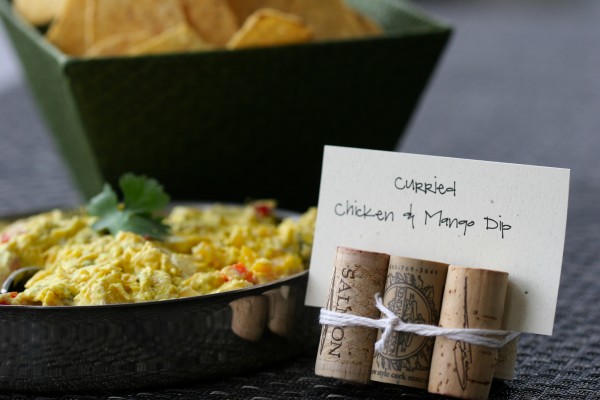 I had an amazing group of women over last night for a networking/happy hour of sorts. Since almost all of the guests were folks I'd never met, I decided to stick with some of my tried-and-true apped'ouevres.  This one is pretty much a slam-dunk every time…
It's an adaptation of a recipe that a caterer traded with me after a party years ago.  It's great because it's super easy to throw together the day before, it freezes well (before it's baked) and you can lighten it up a little if you like.
BTW, the "place-card" you see in the photo is a great way to let your guests know what goodies they're eating.  I'll post instructions for making them as soon as I (ahem) free enough corks.

Curried Chicken & Mango Dip
Prep time:
Cook time:
Total time:
Ingredients
1 rotisserie chicken, shredded
8 oz. cream cheese, softened
4 oz. sour cream
1 jar mango chutney
2 mangoes, peeled and diced
½ bunch green onions, chopped
½ red bell pepper, chopped
1-2 tsp. curry powder (to taste)
¼ cup chopped parsley (for color)
salt and pepper
1 cup Monterey Jack or Mexican blend cheese (optional)
Tortilla chips
Instructions
Mix all ingredients (except cheese and chips) together in a greased baking dish.
Top with cheese if using.
Bake at 350, 30-40 minutes, or until bubbly and starting to brown.
Serve hot with tortilla chips.
You can use lighter versions of the cream cheese and sour cream if you like, and forego the cheese topping to make it a smidge healthier.
What's your go-to apped'ouevre?  I'd love to hear.
Cheers!