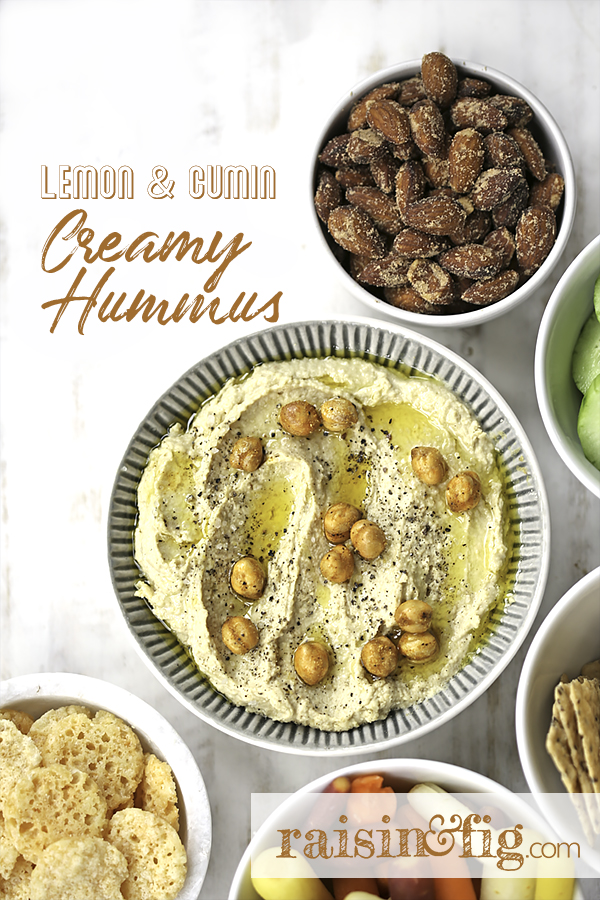 Ok, that title is a little misleading – but it made you curious, right? I'll get to Tom Brady in a second. So, experts say that during these strange times it's important to have a "routine." Husband and I say "Cheers" to that! Besides staying on a schedule, exercising and getting dressed and ready for work (who knows when a Zoom meeting will pop up?!), we have a pre-dinner "happy hour" to catch up on the day, and the day's news. I'm trying to keep things healthy, so the centerpiece of our little ritual is this Lemon & Cumin Creamy Hummus.
APPARENTLY this is a favorite of Tom Brady and his beautiful wife Giselle. Since both of them are "fairly" healthy and in "reasonably" good shape (!), I figured if it's good enough for them, it's good enough for us! So, full disclosure, we do not actually have happy hour WITH Tom and Giselle… 
The original recipe is in my current favorite cookbook (where this delicious Cremini Chili came from). I've made a few tweaks – added more garlic and cumin, and topping it with crispy chickpeas (optional). It's easy, fresh and bright – and perfect for dipping veggies or crackers. 
This makes a TON – but hey, you're not going anywhere for awhile, and you might want to add this to your routine as well. Plus it freezes very well.
Let me know if you make it – and if you'd like to join us for a Zoom happy hour!

Happy Hour with Tom Brady :: Creamy Hummus
Author:
adapted from Food:What the Heck Should I Cook?
Ingredients
2 (15 oz) cans chickpeas, drain and reserve liquid
1 cup tahini
Juice of 3 lemons, plus more to taste
5 cloves garlic, peeled
2 tsp ground cumin, plus additional for garnish
1 tsp Himlayan salt
3 Tbs extra virgin olive oil
additional olive oil, sea salt and pepper
Crunchy Chickpeas (optional)
Instructions
Drain the chickpeas, reserving the liquid. Rinse and drain.
Place the chickpeas and ⅓ cup chickpea liquid, the tahini, lemon juice, garlic, cumin and salt in a food processor. Blend until well combined. While blending, slowly drizzle in the olive oil and any additional liquid to create a creamy consistency.
Serve the hummus in a bowl with an extra drizzle of olive oil on top. Sprinkle with additional cumin(optional), sea salt and fresh ground pepper. Top with crispy chickpeas (optional).
Store in airtight container in the refrigerator for up to a week.
Notes
You can make your own
crunchy chickpeas
or purchase in the salty snack section at your grocer. There are many flavors available.
Cheers!
(Here's the brand of crispy chickpeas that I'm currently topping my hummus with. There are several brands and flavor options, and can be found in the salty snack section at your grocer.)