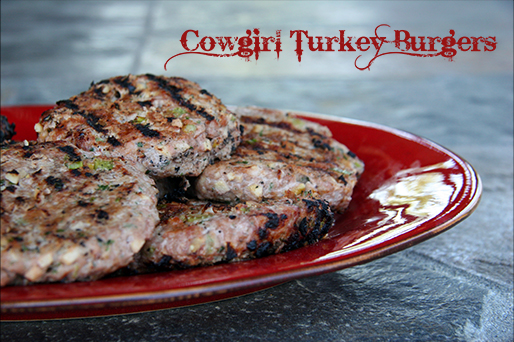 Greetings from Couer d'Alene, Idaho! I'm spending a few days with my best friend and her horses, and we have worked up an appetite! (Those stalls don't muck themselves, now, do they!?)
While I love spending time in the kitchen, spending a few gorgeous days in this beautiful place with these precious ponies takes priority on such a quick trip. So when we get back to the house at night – exhausted, sore and filthy… we want something delicious, but easy!
On the menu? Cowgirl Turkey Burgers! Maybe you've had a bad turkey burger experience. I've been there! I'm betting the burgers you've tried were either dry or flavorless or both. Several versions I've experimented with were too. But when a friend introduced me to these… WOWZA!
Filled with healthy stuff and served on a toasted thin bun, there's no need to feel guilty eating these – but you will feel like you're indulging.

Cowgirl Turkey Burgers
Author:
adapted from Mar-a-Lago club's recipe
Ingredients
¼ cup thinly sliced scallions
½ cup finely chopped celery
3 Granny Smith apples , peeled and grated
1 Tbsp. salt
1 Tbsp. black pepper
2 tsp. Tabasco® or other hot pepper sauce
1 lemon , juiced and grated zest
½ bunch parsley , finely chopped
¼ cup Major Grey's Chutney, pureed if chunky
4 pounds ground turkey breast
Instructions
Mix the scallions, celery and apples in a large bowl. Add remaining ingredients except turkey and thoroughly mix. Add turkey and gently mix until all ingredients are incorporated.
Shape into 12 burgers. Refrigerate for 2 hours, or freeze for 30 minutes.
Season the turkey burgers with salt and pepper. Place on a preheated, lightly oiled grill. Grill each side for about 8 minutes, until meat is thoroughly cooked. Let sit for 5 minutes.
The original recipe is from Donald Trump's private club in Palm Beach, and they are an Oprah favorite. I grate the apples rather than finely dicing them – it's much faster! Also, the recipe calls for sautéing the celery and apple before mixing with the other ingredients, but it's not necessary. I've found it's just an extra step – and creates one more pan to clean! Plus, you eliminate the 1/8 cup oil the original recipe called for, saving fat and calories.
Make the patties early in the day (I made them this morning before we headed to the ranch) and refrigerate. I recommend popping them in the freezer for about 1/2 hour before grilling, which helps hold them together better.
Top with sliced avocado if you like, and enjoy!
A note about freezing: Because this recipe makes a dozen burgers, I want to freeze most of them when I'm cooking for just the two of us. I tried freezing the raw patties, and then grilling them later. Whether thawed first, or put on the grill straight from the freezer, they didn't hold together well. So now, I grill the whole batch when I make them. Freeze cooled burgers in a freezer bag, and when the mood strikes, pull out what's needed and microwave on high for 2 minutes. Delicious!
Happy trails!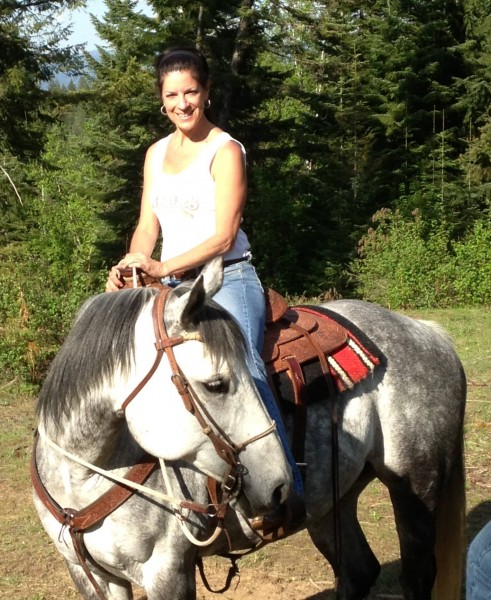 P.S. Jealous of Ree Drummond, a.k.a. The Pioneer Woman that she lives like this every day!