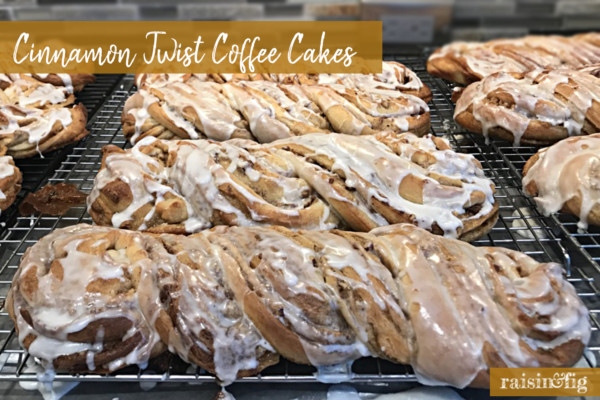 I don't remember a Christmas morning without one of these Cinnamon Twist Coffee Cakes baking while we opened our gifts.  With two older brothers, it was pretty much devoured within minutes of coming out of the oven.  Several years ago, I started making these for a few neighborhood friends.  Since a recipe makes 4 cakes, I'd double it to ensure that Husband and I had 2 left for ourselves — one for Christmas morning, and one for New Year's morning.
Every year, Husband makes the coffee cake deliveries on Christmas Eve.  He's VERY popular…  So are these twisted packages of naughtiness.  So much so, that now I quadruple the recipe, netting 16.
The good news is, they freeze beautifully, so I can make them a few weeks ahead of time.  All that's left to do on delivery day is tie a pretty ribbon and a tag to the foil package and send Husband on his rounds.
NOTES: These really are easy to make, but a tutorial for how to roll up and braid is helpful. I'm no artist, but I did my best to sketch out how to do it! Scroll below recipe for my handy drawing!

Cinnamon Twist Coffee Cakes
Our traditional Christmas (and New Year) morning breakfast!
Ingredients
1 cup butter
5 cups flour
½ teaspoon salt
1 pkg yeast
¼ cup water, warmed
⅓ cup sugar
3 eggs, beaten
¾ cup milk, warmed
FILLING
1 cup brown sugar
1 cup butter
1 Tbs cinnamon
1 cup chopped pecans
GLAZE
½ lb powdered sugar
1 tsp butter, softened
1 tsp vanilla
2 Tbs milk, plus more to reach desired consistency
Instructions
Cut together butter, flour and salt with a pastry blender.
Dissolve yeast in the warm water.
Mix the sugar, eggs and warm milk with the yeast, then mix together with the flour. Grease the top of the dough, cover and refrigerate overnight (at least 6 hours).
Divide dough into 4 sections. Roll each section into a rectangle. Mix the brown sugar and the butter together and spread on the rectangle, then sprinkle with the cinnamon and nuts. Roll jelly-roll fashion (starting with a long side), and seal edges and ends. Beginning 1" from the top of the roll, cut down the center, creating two halves, still connected at the top. Braid, and then flatten slightly. Place 2 on a cookie sheet. Let rise for 3 hours.
Bake at 350 for 20-25 minutes. Mix the glaze ingredients together, adding enough milk, 1 tablespoon at a time to make frosting thin enough to drizzle. Spread on warm coffee cakes.
These freeze really well! To reheat, thaw slightly. Open foil a bit and place on cookie sheet in preheated 350 oven for 15-20 minutes.