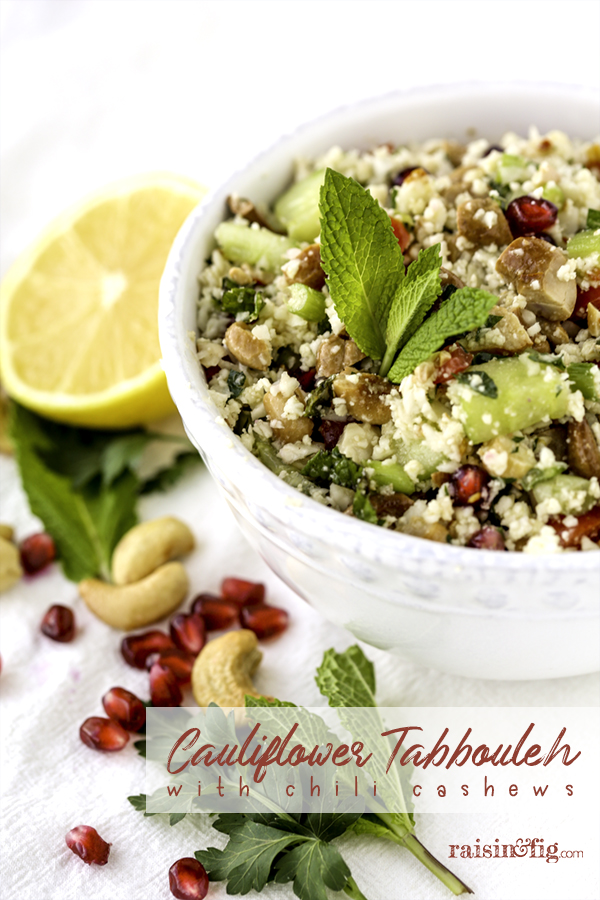 One of the best ways to learn about a culture is through its food. So one of the "rules" I have when traveling somewhere for the first time is to avoid eating at same restaurant twice. And if, for some reason, I do, I certainly don't order the same thing again. Exceptions have been made of course. At our hotel on a recent trip to Indonesia, this Cauliflower Tabbouleh with Chili Cashews was SO good, I not only ordered it twice during our stay, I asked the chef for the recipe!
He graciously obliged. However, his ingredient list was written in grams and milliliters. I'd like to say I dusted the math cobwebs out of my brain to convert those measurements for you… but I just Googled them, and used my handy home scale to help me out. In the end, there's no real need for precision, as this is definitely a recipe you can experiment with.
If you are in a "salad slump," Cauliflower Tabbouleh with Chili Cashews is a delicious and healthy way to mix things up. This national dish of Lebanon is traditionally made with bulgur, or even couscous. It has lots of parsley and mint, some onion, tomatoes, olive oil and lemon juice. I've tried a number of versions, but this one – from a chef in Bali, of all places, is the best I've had.   
Cauliflower gives this version a lighter, grain-free base. The addition of pomegranate seeds add a sweet burst to every bite, and chili cashews bring a perfect amount of heat. 
If you have a food processor, it will make quick work of "ricing" the cauliflower. You can also use a grater.
For the pomegranate seeds (called arils), I find extracting them from a fresh pomegranate very therapeutic (there are plenty of YouTube videos that show you how to do it). But if you want a short cut, you can often find packages of arils in the produce section of your grocery store. You'll spend considerably more buying them that way though. 
And about those chilis – I recommend doubling that portion of the recipe, as they make a great snack on their own. (FYI, the chef's version called for the equivalent of a tablespoon of crushed red pepper! Thankfully, I started with just a teaspoon. Add more if you dare!)
Cauliflower Tabbouleh with Chili Cashews can be made a day or two before you plan to enjoy it – but add the herbs and chopped cashews just before serving.
I don't know if I'll ever get back to Bali – but every time I make this recipe, I'll think fondly of the lovely people we met and the delicious food we enjoyed on our brief trip.
Cauliflower Tabbouleh with Chili Cashews
Ingredients
Chili Cashews
1 ⅓ cup cashews
1 ½ Tbs. melted coconut oil
1 ½ Tbs. maple syrup
1 tsp. crushed red pepper*
salt and white pepper
Tabbouleh
2 cups finely chopped cauliflower (no stem)
10 cherry tomatoes, chopped
3 green onions, chopped
½ English cucumber, chopped
4 Tbs chopped fresh parsley
3 Tbs chopped fresh mint
⅓ cup pomegranate arils
¼ cup olive oil
2 Tbs lemon juice
1 cup chopped Chili Cashews
Instructions
Roast cashews for 4 minutes at 400º then toss with oil, syrup and spices and roast for another 2 minutes, or just until turning golden. Spread nuts on cutting board and allow to cool before roughly chopping.
Toss together all tabbouleh ingredients. Adjust the seasoning with salt and pepper.
Notes
Can make tabbouleh a day or two ahead. Add fresh herbs and cashews just before serving.