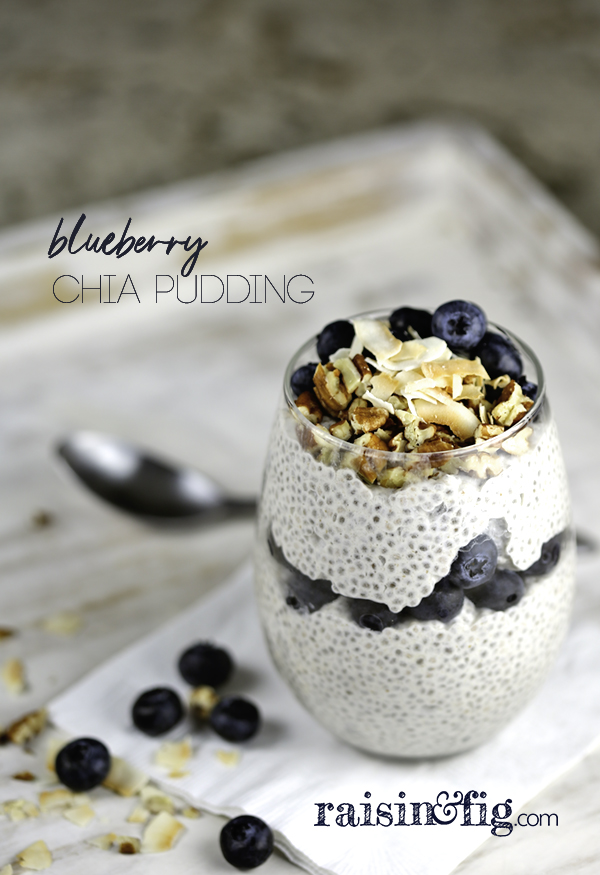 I have no idea what day it is! (You too?!) Husband and I have embraced this slower pace and settled into some new routines. Committed to staying healthy and eating well, we get outside every day and exercise. And I've challenged myself to keep trying new recipes – like this Blueberry Chia Pudding. Delicious enough for dessert, this has become a go-to breakfast option.
If your only knowledge of chia seeds are those ceramic pets that grew "hair", back in the 80's, let's get you up to speed! Chia seeds are an excellent source of omega-3 fatty acids – super important to brain health. And they are rich in antioxidants, fiber, iron, and calcium. Add them to liquid and they create a kind of gel – this is the soluble fiber at work. 
Super easy, this is one of those recipes that you can have fun with, once you get the basics down. I make a batch early in the week, and serve it with whatever toppings sound good. Lately, that's blueberries, toasted coconut and chopped pecans. Any fresh or frozen berries, bananas or kiwi – whatever you like, works just as well.
You can make this with regular milk, or your favorite nut or plant-based milk. I used Aroy-d Coconut Milk – which I get from Amazon. It's thick and creamy – and comes in pantry-stable cartons, which is a plus during our "shelter in place" quarantine! It makes for a very thick pudding so I usually combine it with some almond milk. To sweeten your pudding just a bit, I like chopped dates. But you can use maple syrup or honey.
If you're looking for a recipe your kids can help with, this is a good one – all you need is a blender.
Enjoy – and stay healthy!

Blueberry Chia Pudding
Ingredients
2 cups full fat coconut milk
1 cup almond milk (or other milk)
3 dates, pitted and chopped (or 2 Tbs maple syrup or honey)
1 tsp vanilla extract
pinch salt
6 Tbs chia seeds
Toppings!
blueberries
toasted coconut flakes
chopped almonds
Instructions
Place coconut and almond milk, dates, vanilla and salt into blender and process until creamy smooth.
Whisk in chia seeds and pour into individual serving glasses or a large bowl.
Refrigerate for at least 4 hours or overnight. Top with favorite toppings.
By the way, the Chia Pet has seen a resurgence – you can check out the latest options
here
!