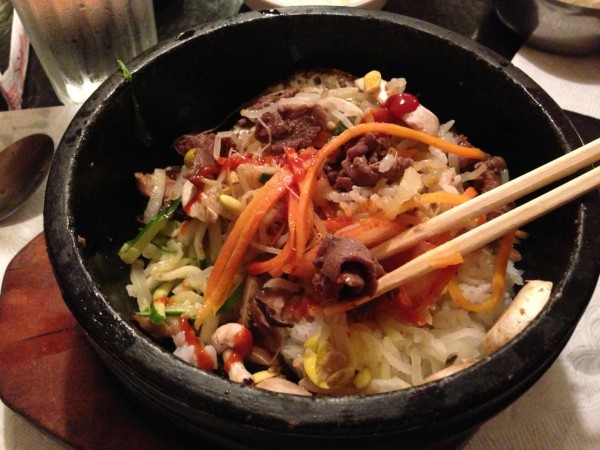 A friend found this bibimbap recipe in Bon Appetit and wanted to taste the "real thing" before attempting to make the dish at home. (I love that kind of research!) On our internet search, Hoban in Eagan repeatedly came up as one of the best Korean restaurants in the Twin Cities. So last Friday night we nabbed some friends for an impromptu dinner adventure.
The restaurant is in a strip mall (no surprise there) and looking through the windows from the parking lot, we could see it was packed. About 95% of the patrons were Korean (well, once WE walked in). We figured that was a good sign…
Thankfully, we had a reservation, otherwise the wait could have been 45 minutes or more.
Our waiter, Fred (not his real name – we tried repeatedly and unsuccessfully to pronounce his Korean name, but butchered it…); anyway, Fred walked us through the menu, suggested a few appetizers, and some Korean beer to get us started.
Most of us ordered the "bibimbap" for our main meal. It's something you'll find in most Korean restaurants, but the ingredients can vary. Hoban's menu describes their bibimbap like this: "Sizzling rice topped with an assortment of vegetables and beef. Comes with an egg and a side of fiery hot sauce."
While the description may sound like any other stir-fry in any other Asian restaurant, this one is such a great dish because of the variety of flavors and textures, and all the optional condiments you can stir into it. The fried egg is a terrific touch. The bibimbap (and everything else we ate) was a huge hit.
Fred came by to check on us, and we asked him about the karaoke bar we'd noticed next door. DoReMi is owned by the same nice folks as the restaurant, and by the looks of it, it does a great business.
They have four themed rooms that are rented by the hour. (Frankly, that part creeped me out a little…) Nevertheless, we all wanted to have a peep, er, peek, and check out what in the world was going on.
I've seen a few karaoke bars in my day, but none like this. The rooms are like little mini nightclubs — sleek and minimalistic, with leather couches, state of the art audio, flashing LED lights… and a collection of over 20,000 songs – in 6 languages! They are SERIOUS about their karaoke!
So serious in fact, that we couldn't reserve a room because they were booked – unless we wanted to come back much later that night. (We did not.) Those lucky enough to nab a room can have it until 4am. Yes. 4am.
On their website, they have this helpful suggestion: "Power down on beer, shots, and cocktails to help your performance! I was more worried about my performance in recreating the meal I'd just had!
Sunday was spent shopping for ingredients – lots of produce, and some unfamiliar items that required a trip to a nearby Asian market. Next up was chopping and prep. While this took time, it was all very easy, and the final product was great! I decided to put all the ingredients on a platter so we could each create our own bowl. It makes for a great presentation and would be really fun for a party. Too bad I gave away our karaoke machine…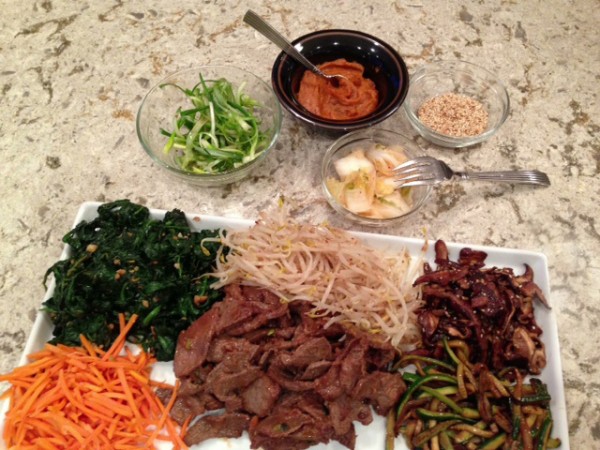 Interested in tackling it? Here's the link to the recipe I used.