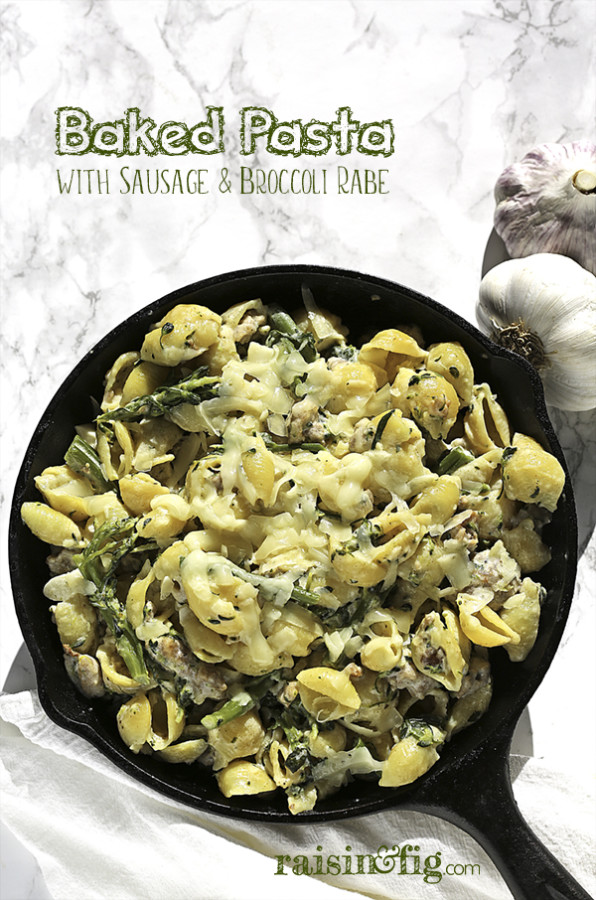 Back in J-School (Journalism School, at UNL – Go Huskers!) we were taught the mantra "Don't bury the lead." In other words, you should share the most important thing first; then elaborate (or in my case, digress) for those who care to read further. In the world of food blogs, research says the same is true. In this world, the "lead" is the recipe – that's why you clicked to get here in the first place, right? So, for those that want to go straight to the recipe for Baked Pasta with Sausage and Broccoli Rabe… click HERE. For the few family members and friends who will read this out of obligation, bless you. Come on over and I'll make this for you!
This is one of those recipes that had me salivating when I read the original version in Bon Appetit. Their title was a little misleading in that they called it a "One-Pot" recipe. You do  have to boil the pasta in a second pot – which is a small price to pay for this masterpiece of a meal.
Baked Pasta with Sausage and Broccoli Rabe takes "comfort food" to a whole new level. Amped up with awesome flavors (Fontina cheese, fresh sage, red pepper flakes, and a heck of a lot of garlic, it's also extremely versatile. You can make it meatless, or even gluten free. You can swap out different vegetables for whatever you might have lurking in the fridge. But as-is, it's perfect. And whatever you do, don't skimp on the garlic!
Coming off a season of "over-indulging" I did decide to make a few tweaks this time… I swapped out the regular pasta for gluten free (blasphemous to some, I know, but my belly thanked me!) I cut back just a smidge on the cheese and half and half (but then added it back in when I reheated the leftovers! So much for restraint…). Next time I might add some sun-dried tomatoes, and if you're not a broccoli rabe fan, you could easily substitute regular broccoli or even spinach. 
However you decide to make it, this is a recipe where quality ingredients are important. Splurge on a good Fontina and fresh sage, and absolutely use fresh garlic (definitely not the jarred stuff!).
The original recipe says it serves 8. I don't know how you'd find eight people with enough self-control to call it quits at a single reasonably-sized portion. We are a household of two, so I baked half and froze the rest for a chilly night when I don't have groceries – or motivation. I'd say this would serve 6. (We did have some leftovers – but they were gone by lunch the next day).
Baked Pasta with Sausage & Broccoli Rabe

Baked Pasta with Sausage & Broccoli Rabe
Ingredients
Kosher salt
12 ounces Fontina and/or aged cheddar cheese
6 garlic cloves - or more!
2 large sprigs sage (or 2 tsp dried)
1 bunch of broccoli rabe
¼ cup plus 1 tablespoon extra-virgin olive oil
1 pound sweet or hot Italian sausage
½ teaspoon crushed red pepper flakes
2 cups half-and-half
1 pound ridged medium pasta shells, or large tube pasta, such as lumaconi or rigatoni (I used Ancient Harvest gluten free corn/quinoa)
Instructions
Place racks in center and upper third of oven; preheat to 325°. Heat a large pot of water over high. Add several tablespoons of salt and bring to a boil (this is for your pasta).
Grate 12 oz. Fontina cheese on the large holds of a box grater (you should have about 4½ cups). Smash 6 garlic cloves, peel, and coarsely chop. Pick all sage leaves from stems and set aside about 10. Finely chop remaining leaves (you should have about 1 Tbsp.). Trim tough dried ends from 1 bunch of broccoli rabe, then cut stems into 2" pieces. Leave leafy ends long.
Heat a deep, large, ovenproof skillet, preferably cast iron, over medium-high. Add ¼ cup oil and swirl to coat. Remove 1 lb. sausage from casings and add to skillet. Break into small pieces with a wooden spoon. Cook, undisturbed, until sausage is browned, about 4 minutes. Stir a couple of times and continue to cook, undisturbed again, until sausage is fully cooked through, about 3 minutes longer.
Add garlic, chopped sage, and ½ tsp. red pepper and cook, stirring, until garlic is golden, about 2 minutes.
Stir in 2 cups half-and-half and simmer until sauce is thickened slightly, about 2 minutes. Reduce heat to low.
Gradually add about two-thirds of cheese, bit by bit, stirring constantly and letting cheese melt completely before adding more, until sauce is smooth and thick, about 3 minutes; season with salt and remove from heat.
Meanwhile, cook 1 lb. pasta shells in boiling salted water 2 minutes shy of package instructions (8–10 minutes depending on type). During the last 2 minutes, add all of broccoli rabe to pot with pasta. Drain in a colander and shake several times to remove excess water. Return pasta and broccoli rabe to empty pasta pot.
Add cheesy sausage mixture from skillet to pot with pasta. Stir until pasta and broccoli rabe are coated in sauce, then transfer everything back to skillet.
Cover skillet tightly with foil and bake on center rack until pasta is tender and sauce is bubbling, 30–40 minutes. Let rest a few minutes while you heat broiler.
Remove foil and top with remaining cheese. Toss sage leaves with remaining 1 Tbsp. oil in a small bowl and arrange over pasta. Broil until cheese is browned and bubbling in spots, about 5 minutes (depending on strength of broiler).
Let pasta cool a minute or two before serving.
Notes
If you plan to freeze some or all of this recipe, portion into freezer-safe containers before baking. Thaw and bake before serving.
As always, thanks for stopping by. Enjoy, and cheers!