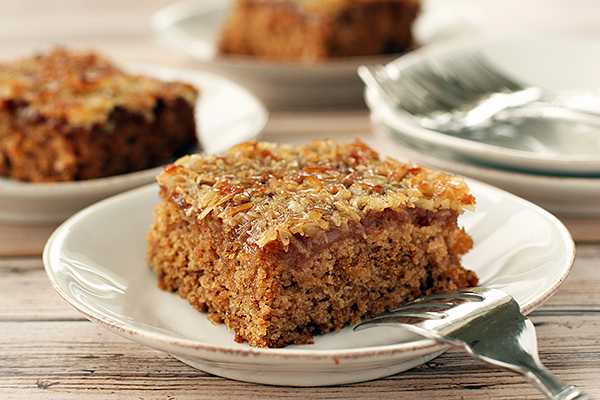 This recipe was actually published over a year ago, but I'm sharing it again for three reasons:
First, I've made it 3 times in the past week – for several families in various types of distress… one of my dearest friend's dad just passed away, another friend is waiting for a heart transplant, and yet another is waiting on test results from specialists. Whether accompanying a meal or delivered on its own, this cake has been a hit every time. And it's so easy, I thought you might like it in your repertoire as well. Next, I posted it before Raisin & Fig was officially launched – I was just playing around, seeing if I could learn how to play in this blogging "sandbox." And so you might have missed it. Finally, the picture that accompanied the original post wasn't one of my own, and I really prefer to show you the actual dish as it turned out in my kitchen.
***
Chances are you already have the ingredients for this cake.  You can be treating yourself to a piece in about an hour.  Go ahead.  I'll wait… My mom has been making this for over half a century.  It always turns out, and it's always a hit.  Those are reasons enough to call it "heavenly." Today, I am making it to take to my Bible study group.  The topic?  Heaven.  We are reading Randy Alcorn's book and discovering a lot that we hadn't ever been taught in Sunday school or sermons.  And of course there are lots of questions.  One of mine (no surprise here) is whether we'll eat and drink in heaven. Without getting into a whole theology "thing" (read the book!) my fears about never enjoying another batch of guacamole, my favorite Indian food or this delicious cake seem to be unfounded. Food plays a pretty important role in the Bible…  Eating, meals and foods are referred to well over a thousand times.  "Feasts" are referred to 187 times.  ("Feast" is such a happy word!)  And several mentions are referring to feasts in heaven, not just here.
On this mountain the Lord Almighty will prepare a feast of rich food for all peoples, a banquet of aged wine— the best of meats and the finest of wines.  Isaiah 25:6
Sounds, well… heavenly!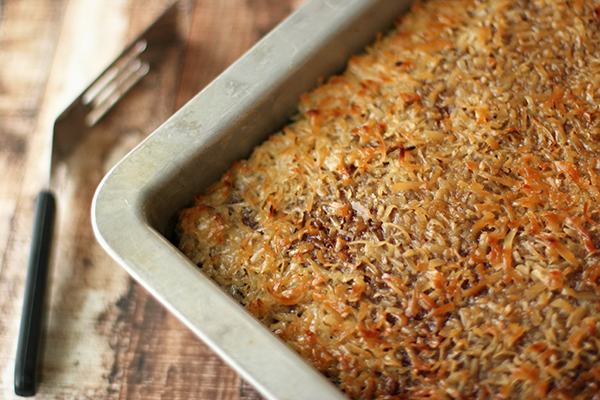 I did mention that this cake always turns out.  Well that's true, but, "operator error" can botch it.  The last time I made it, I failed to keep an eye on it while it was finishing under the broiler.  It was the smoke that got my attention.  I yanked the cake out of the oven, scraped off the topping, whipped up another batch, spread it on the still-hot cake and went for round 2 under the broiler.  Voila.  No one was the wiser.  Turns out, the cake is also very forgiving.  Another reason I call it heavenly. Enjoy!

Applesauce Cake
Ingredients
Cake
½ cup butter
1¾ cups sugar
1 egg
2½ cups flour
½ teaspoon cloves
½ teaspoon cinnamon
½ teaspoon allspice
¼ teaspoon salt
½ cup water; boiling
2 teaspoon baking soda
1½ cups applesauce
½ cup walnuts
Topping
⅓ cup butter
¾ cup brown sugar
¾ cup coconut
½ cup nuts
3 teaspoons milk
Instructions
Sift dry ingredients. Cream butter and sugar. Add egg; beat well. Combine soda and water. Add alternatively with dry. Add applesauce and nuts.
Bake at 350 for 40-45 minutes in greased 9 x 13 x 2 pan.
Mix topping ingredients and spread on warm cake. Lightly brown under broiler.
This cake can be made a day or two ahead, and kept covered at room temperature.  It also freezes really well. {This post originally published on 02-19-2013}