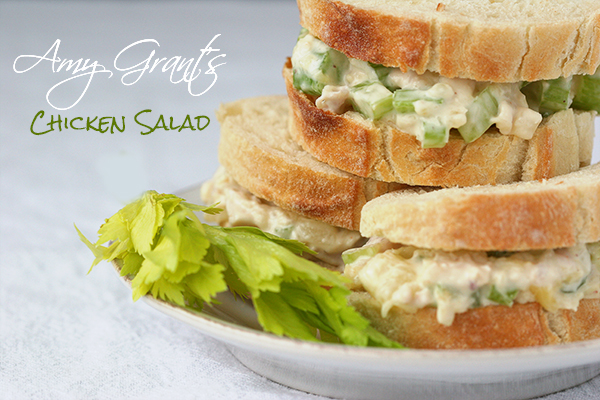 It was nearing lunch time as I was putting this giveaway together, and decided to try Amy Grant's Chicken Salad.  Super easy, and very tasty, it's just one of the 5 recipes from Amy and husband Vince Gill included in "Bless This Table" – the book that Raisin & Fig is giving away this week. I stumbled across this cookbook recently, and had to have a copy. I love the premise:
Our fondest memories are of dinner time in our home, our grandparents' home and how affection was shared through the gift of cooking. Is sitting down as a family for dinner a lost tradition? We hope that this book inspires the return of the family dinner. We hope you enjoy their celebrity family stories and the recipes that evoke the fondest memories. Bless this Table.
The book has some tasty-looking recipes from people you may have heard of, besides Amy: Celine Dion, Josh Groban and Reba McEntire… and since I work in the Christian music industry, I was especially happy to see Amy Grant and Natalie Grant included as well.  I've had the privilege of meeting Amy at a number of industry events and fundraisers, and I can tell you she is as down to earth as they come.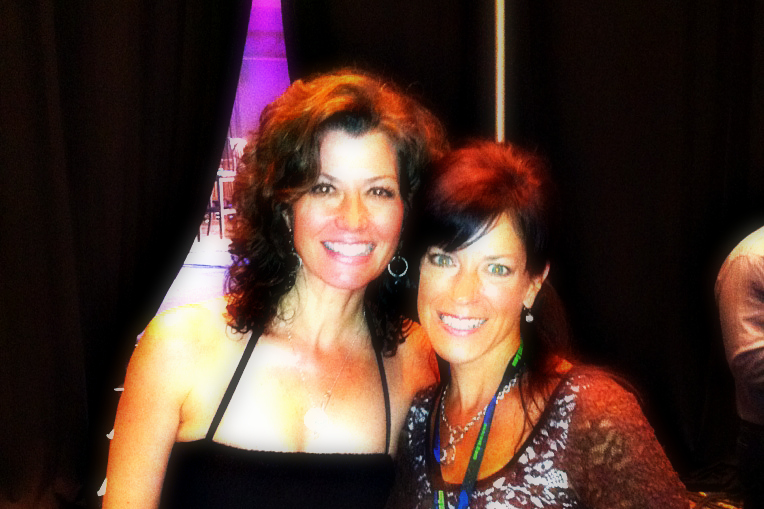 Bless This Table has only been in my kitchen for a few days, but I've already marked a dozen recipes I want to try. In addition to great-looking dishes, many of the celebrities include stories of their family traditions, as well as the blessing or grace that is shared at their table.

Amy Grant's Chicken Salad
Author:
Gloria Grant, Amy Grant's Mother
Ingredients
1 whole chicken
1 large can chicken broth
1 bunch celery
3 cans crushed pineapple (#2 can size)*
1 jar mayonnaise
Instructions
Boil chicken in chicken broth for extra flavor.
Debone chicken and cut up with scissors into bite size pieces in a large bowl.
Dice celery.
Add pineapple that has been drained thoroughly.
Mix your ingredients together.
Now add 1 cup of mayo at a time. Taste as you go along. You can add mayo until you get the right texture/taste for you.
* #2 can size is 20 ounces
I know this recipe only has 5 ingredients and is super easy already, but I cheated and bought a rotisserie chicken from the deli and shredded it. That saved a step – and a few dirty dishes. Also for the mayo, I used my latest favorite,
Ojai Cook's Lemonaise.
Bless This Table would make a terrific gift for you or someone on your list – and Raisin & Fig is giving away a copy!  Meanwhile, if you want to buy the hardcover, ebook or both gifts – or for yourself, you can do that
here.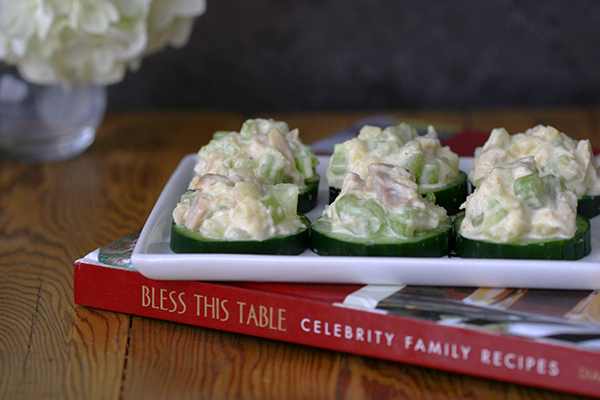 This giveaway is now closed. Congrats Susan C. – you won the cookbook!
Never entered a Rafflecopter giveaway before? Here are some tips on how it works:
How to Enter Rafflecopter Giveaways from Rafflecopter on Vimeo.