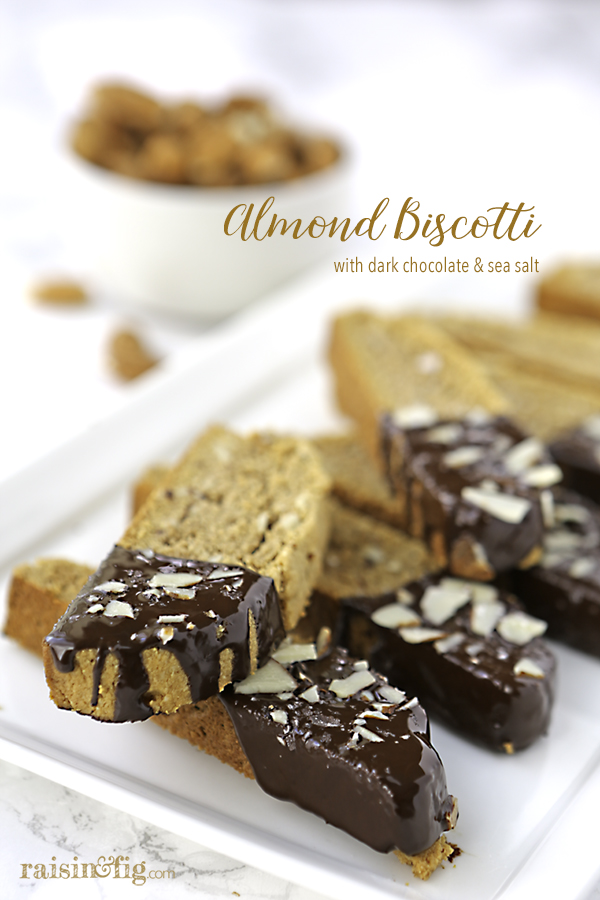 The older Husband and I get, the more we're into routines. If one or both of us are traveling, we FaceTime at the end of the day. We don't discuss our thoughts on a movie we've seen, until we have a post-movie snack and maybe a nightcap.  We typically go to church on Saturday nights, after which we can be found at our favorite Mexican restaurant – in our usual spot, with our usual order. And on Sunday mornings, our ritual includes coffee and watching CBS Sunday Morning. We've recently taken that routine up a notch, thanks to Almond Biscotti with Dark Chocolate and Sea Salt.
A couple of weeks ago, on a snowy Saturday, I decided to try making biscotti for the first time. I had always been intimidated by these elongated cookies. Something about needing to bake them twice made them seem too challenging. Truth is, they couldn't be easier. Or more addictive. And they happen to be gluten free!
These Almond Biscotti with Dark Chocolate and Sea Salt were an instant hit with my taste-tester husband. So much so, that when I went to make coffee the next morning, he suggested we try one of those "dunkers" I had just made the day before,
And so, now, they're part of our Sunday morning routine.
Just dump the ingredients together in your mixer or food processor… shape and bake. Cool, slice, then bake again. Your "active" time is literally under 10 minutes. The REAL challenge is letting them cool and packing them away before they disappear.
The original recipe called for adding orange zest to the cookies, as well as sprinkling some on top of the melted chocolate. I personally don't care for chocolate + fruit, so I left that out. Not a fan of dark chocolate? These are just as delicious without. 
Go ahead and double the recipe so you have plenty on hand.  I was feeling good about my inventory after making the last batch, but I have a sneaking suspicion that "someone" is getting to them in between our Sunday mornings!

Almond Biscotti with Dark Chocolate & Sea Salt (Gluten Free!)
Author:
Adapted from FitFoodieFinds
Ingredients
DRY
3½ cups ground almond flour (not almond meal)
1 teaspoon baking soda
2 teaspoons cinnamon
½ cup slivered almonds
⅛ teaspoon salt
WET
2 large eggs
¼ cup maple syrup
1 teaspoon vanilla extract
1.5 teaspoons almond extract
⅓ cup coconut oil
CHOCOLATE DRIZZLE
¾ cup dark chocolate chips, melted
maldon salt
slivered almonds
Instructions
Preheat oven to 340º and lay parchment paper on a cookie sheet.
Mix together dry ingredients in a bowl, set aside.
Next, place wet ingredients (minus the coconut oil) in a large bowl and slowly mix together with a hand mixer.
Add dry ingredients to wet ingredients and mix again. Finally, add coconut oil and mix until everything is combined.
Split the dough in half and form into logs about 4 inches wide and ½ to ¾ of an inch thick.
Bake for 20-25 minutes.
When the logs are golden brown on the edges, remove from oven and let cool for 15min. Reduce oven temperature to 300º.
Once cooled (it is VERY important that they are cool), cut loaves evenly into ½ – ¾ inch cookies.
Place back on cookie sheet and bake for another 20-30 minutes, depending on how crunchy you would like your biscotti.
Remove from oven, let cool for 30 minutes.
Dip in melted chocolate and sprinkle with Maldon salt and chopped almonds.