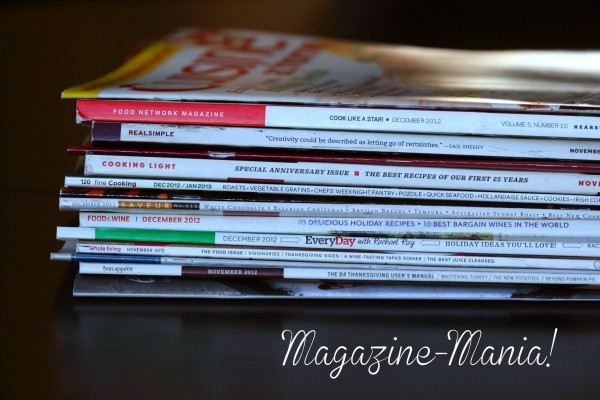 It could be worse. I could be addicted to cigarettes or heroin.
When I reach inside my mailbox and find that one (or more) of my food periodicals has found it's way there, I am giddy.
But do I read it immediately? Oh no!
Like the meals they highlight, these gems are meant to be savored. Slowly. And with wine. I save them up for an evening I'm alone (either literally, or because Husband is catching up on sports on TV). I pour a glass of Pinot Noir, and slowly open the cover.
Dog-earring pages as I go, I challenge myself to make one new meal in the coming week. I stare at amazing photographs of mouth-watering ingredients and wonder what lens was used for each. I'll read each recipe's ingredient list and preparation instructions, imagining the taste of the final product. Later, I go back and tear out each marked page, and file the recipes via my nifty system.
A few years ago, I donated most of my cookbook collection. That was a big step, considering I had accumulated nearly 100. But the speed with which I could search the vastness of the internet for recipes made hanging on to them seem silly. And limiting.
So why not go cold-turkey? Why not cancel all 13 (and counting) subscriptions, save the money, go green, blah blah blah? Because there's something about the tactile experience of opening a glossy magazine and turning the pages one by one as new flavors and techniques are discovered. With the internet, these "discoveries" are few and far between, since I usually initiate a search looking for something specific. And sometimes, as the saying goes, you don't know what you're looking for until you find it. Or, in the case of food magazines, until it finds you.
Besides, in the big scheme of things, reading these magazines is a form of entertainment. And it's cheaper than heroin.
A running inventory:
Cooking Light
Whole Living
Saveur
Bon Appetit
Food & Wine
Gourmet (RIP)
Everyday Food
Rachel Ray
Real Simple
Food Shed
Cook's Country

Fine Cooking
Cook's Illustrated
Cuisine at Home
Food Network
Edible Twin Cities (added August 2013)
Eating Well (added June 2013)
By the way… if you have a similar guilty pleasure, you know that managing multiple subscriptions is hard.  Especially since the publisher starts sending renewal notices shortly after you receive your first issue.  If you want to ensure that you don't let your subscription lapse OR that you don't renew the same one multiple times, check out Amazon's handy-dandy Magazine Subscription Manager.  Doesn't matter if you originally subscribed through Amazon or not.  Load your info there, and voila!  All of your subscription info is organized in one place.  For free.